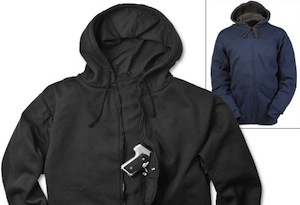 In the midst of the national furor over hoodies, The National Rifle Association has introduced a new specialized hoodie to their online store. Dubbed the NRA Concealed Carry Hooded Sweatshirt, the organization explains that this item will help fit concealed carry "around your lifestyle – not the other way around."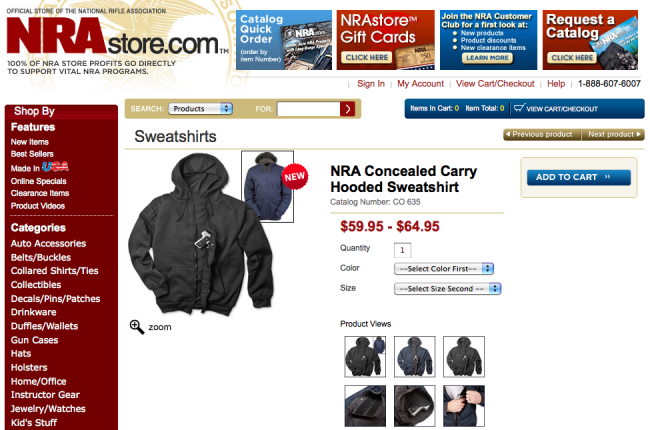 The handgun-friendly apparel is available to order on their website for $59.95 to $64.94.
Read the product description below:
We want concealed carry to fit around your lifestyle – not the other way around. That's why we developed the NRAstore™ exclusive Concealed Carry Hooded Sweatshirt. It's the only garment of its kind we know of! Made from a pre-shrunk, heavyweight 50% cotton / 50% polyester blend, we've taken a standard 9 oz. fleece sweatshirt design and added a full-body polyester lining for added warmth, durability, wind resistance and weight distribution. Inside the sweatshirt you'll find left and right concealment pockets. The included Velcro®-backed holster and double mag pouch can be repositioned inside the pockets for optimum draw. Ideal for carrying your favorite compact to mid-size pistol, the NRA Concealed Carry Hooded Sweatshirt gives you an extra tactical edge, because its unstructured, casual design appears incapable of concealing a heavy firearm – but it does so with ease! Includes drawstring hood, cotton/spandex ribbed cuffs and waistband, two front pouch pockets and a discreet black zipper. Includes one Velcro® holster and one Velcro® mag pouch.
Last week, Geraldo Rivera created a firestorm when he warned that Trayvon Martin's hoodie was just as responsible for his death as George Zimmerman, "Every hoodie should come with a warning like cigarettes," Rivera added. "Caution wearing this could get you killed."
Have a tip we should know? tips@mediaite.com