NY Times Piece Details How President Obama Is Great At Everything (Except Governing)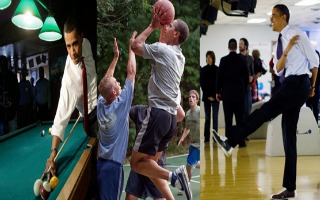 An illuminating piece in the New York Times on President Barack Obama informs its readers that he has taken to touting his skills on a variety of activities on the campaign trail; from cooking "a really mean chili," to being a "surprisingly good pool player" to doodling. The occasional parenthetical in the piece notes the painfully obvious critique of these and other presidential boasts, which is that many voters will see these statements as off-putting arrogance.

Jodi Kantor, the author of The Obamas, a biographical look at the private lives of Mr. and Mrs. Obama, details in Monday's New York Times several comments which are particularly reflective of the president's inflated sense of self-worth.
She recounts how Obama recently attended a fundraiser in New York City attended by several high-profile basketball players. "[I]t is very rare that I come to an event where I'm like the fifth or sixth most interesting person," Obama said at the time.
"Even by the standards of the political world, Mr. Obama's obsession with virtuosity and proving himself the best are remarkable, those close to him say," writes Kantor. She note's in a parenthesis that "(Critics call it arrogance.)" That is one powerful, if buried, parenthetical.
Mr. Obama's aides point to the seriousness he brings to the tasks of the presidency — how he virtually never shows up for a meeting unprepared, say, or how he quickly synthesizes complicated material. When Mr. Obama was derided as an insufferable overachiever in an early political race, some of his friends were infuriated; to them, he was revising negative preconceptions of what a black man could achieve.
"For someone dealing with the world's weightiest matters, Mr. Obama spends surprising energy perfecting even less consequential pursuits," Kantor writes. She notes that the president is known to take in a game of cards on Air Force One and has taken up 104 rounds of golf over the course of his presidency – a statistic that would have horrified the critics of the president's immediate predecessor who was gratuitously attacked for playing just 24 rounds in the first two years of his presidency. That is, before Bush voluntarily ceased the activity fearing that the optics of playing golf in a time of war would make him appear callous.
That is not to say President Obama has not been working over the course of his presidency even while taking the occasional vacation or taking in a campaign stop. In fact, Kantor characterizes him as "working at a furious pace, headlining three times as many fund-raisers as George W. Bush did during his 2004 re-election campaign. (emphasis added)"
In the modern, polarized media environment, you truly cannot win for losing. Of course, the occupant of the White House is never truly away from his work. And Kantor's book, The Obamas, was panned by White House staffers and the president's liberal supporters who said that it cast the Obama White House in a negative light.
Kantor's is not the folly in this piece – it is that of Obama's handlers, who do not see that these and other moments of presidential braggadocio might have the effect of turning off voters who value modesty.
And modesty is precisely the tone that I believe Mitt Romney has reached for and struck as the pace of his campaign has accelerated ahead of last week's convention. His wife, Ann Romney, told the RNC audience "Mitt doesn't like to talk about how he helped others because he sees it as a privilege — not a political talking point."
Speaking two nights later, after mocking Obama for promising to "heal the planet," Mitt Romney promised, with a characteristic lack of pretension, simply "to help you and your family."
The contrast between the two men vying for the presidency when viewed through the prism of pieces like Kantor's is strikingly stark. Obama's handlers and campaign consultants seem to view these and other conceited boasts as an electoral boon. You just have to wonder whose side they're on.
Read the full piece here via the New York Times
Images courtesy of Jae C. Hong/Associated Press, Pete Souza/White House & Damon Winter/The New York Times
> >Follow Noah Rothman (@Noah_C_Rothman) on Twitter
Have a tip we should know? tips@mediaite.com