NY Times Calls Out Sen. Graham's 'Reckless' Case For Treating Boston Suspect As Enemy Combatant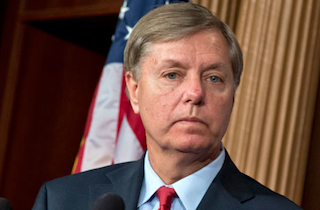 Sen. Lindsey Graham (R-SC) has been among the group of politicians arguing in favor of treating Boston bombing suspect Dzhokhar Tsarnaev, who is a naturalized U.S. citizen, as an enemy combatant because we do not want him to remain silent. The New York Times editorial board reacted to this assertion on Monday, calling out Graham in particular for being "reckless."
Graham was joined by Sens. John McCain (R-AZ), Kelly Ayotte (R-NH), and Rep. Peter King (R-NY) — and they penned a statement that read:
"The accused perpetrators of these acts were not common criminals attempting to profit from a criminal enterprise, but terrorists trying to injure, maim, and kill innocent Americans. The suspect, based upon his actions, clearly is a good candidate for enemy combatant status. We do not want this suspect to remain silent."
Graham "apparently has a thermal-imaging device for detecting the motivation of the man arrested on suspicion of bombing the Boston Marathon," the Times editorial stated, calling out the lawmakers for doing so without the "benefit of evidence." His "reckless statement makes a mockery of the superb civilian police work that led to the suspect's capture, starting with a skillful analysis of video recordings of the marathon," it further argued — and that there's no reason law enforcement can't do their job while still giving Tsarnaev his rights.
Pointing to the "inconvenient" fact that Tsarnaev is a citizen, the editorial remarked, "Their Islamic or Chechen heritage alone is hardly proof of jihadist intent."
The "Obama administration, no less than Republicans, should not allow the raw emotions associated with a terrorism case to trample on the American system of justice."
For his part, Graham has stated that "a citizen can be an enemy combatant." Similarly, King argued that the battlefield is now domestic, so the rules are different.
Read the full editorial here.
Have a tip we should know? [email protected]