NY Times Coverage of Trump Appearance at Pro-Military Rally Curiously Features Confederate Flag Photo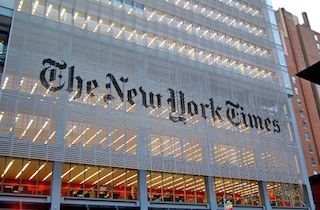 The New York Times made a curious editorial decision yesterday regarding the picture they picked to go with their article about Donald Trump's speech before the Rolling Thunder motorcyclists in Washington D.C.
In their piece, the Times described how Trump addressed an "incongruous constituency" at this event, which was basically his way of pushing his military and veterans talking points for Memorial Day weekend. The Rolling Thunder Rally is meant to 'honor educate, facilitate, and never forget by means of a demonstration for service members that were abandoned after the Vietnam War.' But even as the Times covered the high points of Trump's rally, they also brought up the lows along with notes about how his relationship with veterans is complicated to say the least.
However, in what might have been the most peculiar part of the article, though, the Times decided that their top featured image from the event would be one with a Trump-supporting biker with the Confederate Flag patched on the back of his jacket.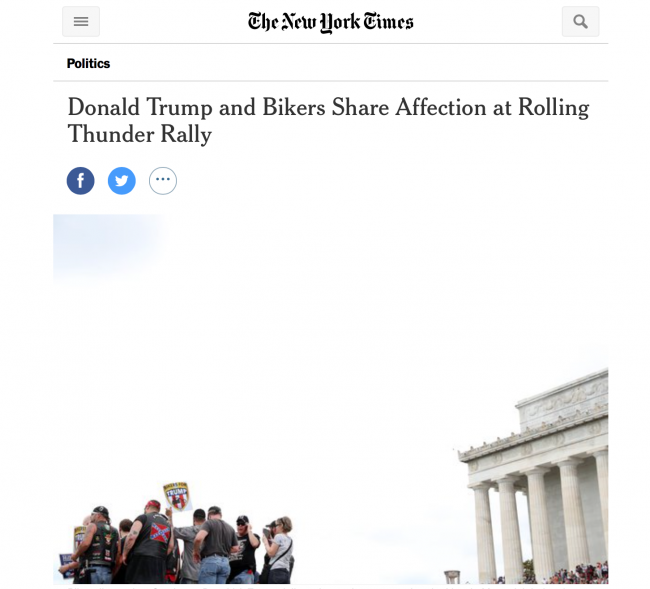 The picture's use has some interesting connotations for several reasons, one of which being that the Times brought up how Trump was upset that yesterday's event wasn't big enough to replicate Martin Luther King Jr.'s March on Washington. The Confederate Flag is still seen by many as pro-racist symbol, and between this and Trump's hesitation to denounce his white supremacist supporters in the past, it throws water on any desire to make a comparison to MLK.
Another factor worth consideration is that the Times decided to go with the picture of the flag when there were many images from the rally for them to choose from. In fact, we reviewed coverage from several different mainstream media outlets and we didn't find anyone else featuring an image with the Confederate Flag.  Trump's event received a great deal of media coverage as per usual, and even though the Times' flag picture isn't blown up or exceptionally blatant, there were plenty of pictures available where the controversial image is not seen.
Finally, it does bear mention that the New York Times has faced enormous friction when dealing with Trump in the not so recent past, especially when their coverage has turned negative or problematic for him. It was just two weeks ago when the Times was accused of writing a hit piece on Trump's relationship with women. Donald Trump has repeatedly gone to war with the venerable newspaper including taking to Twitter to criticize their coverage.
[Image via shutterstock]
— —
>> Follow Ken Meyer (@KenMeyer91) on Twitter
Have a tip we should know? tips@mediaite.com