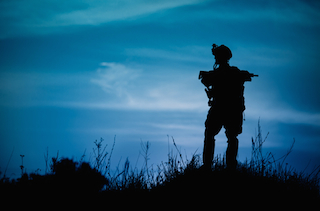 The New York Times editorial board called upon the Pentagon to establish uniform, military-wide transgender policies to replace what the Times called Thursday an antiquated and discriminatory "patchwork" of makeshift rules.
The board argued that obsolete categorizations of transgender identities as a perversion preserved discrimination against transgendered soldiers, even as some commanders moderated in the field. The uneven rules leave soldiers open to dismissal at any time; the Times reported one case in which a soldier received support from her commander only to have expulsion proceedings begun by a physician.
"The absence of common-sense leadership on this issue by Pentagon leaders has forced commanders on the ground to develop a patchwork of unofficial rules," the board wrote. "Those have created a tremendously uneven landscape in which some service members are treated with respect and assured career advancement, while others are subject to scorn, if not dismissal."
"That is an inexcusable way to treat Americans who want to serve their country," the board wrote.
Then-Defense Secretary Chuck Hagel said in May of 2014 that he was "open" to a review of the military transgender policies, but the Times faulted him for not prioritizing it, and called on Hagel's replacement Ash Carter to more thoroughly pursue it. "Medical and military experts who have studied the policies have concluded that there is no rationale for disqualifying transgender troops from serving on medical grounds," the board wrote.
The Times' recommendation comes days after Caitlyn Jenner became the highest-profile individual to make a gender transition. It also follows the controversial case of Chelsea Manning, serving a decades-long sentence for leaking classified information, who asked last year to be transferred to a civilian facility to undergo gender reassignment surgery.
[h/t New York Times]
[Image via screengrab]
——
>> Follow Evan McMurry (@evanmcmurry) on Twitter
Have a tip we should know? tips@mediaite.com