NY Times Editorial: Obama 'Misspoke' When He Said You Can Keep Insurance Policy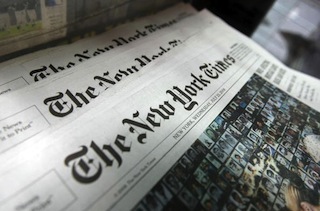 The New York Times published an editorial Saturday arguing that the fracas over President Barack Obama's "if you like your insurance policy, you can keep it" pledge that accompanied the passage of the Affordable Care Act is an "overblown controversy," and that many of the policies being cancelled are "not worth keeping."
"Mr. Obama clearly misspoke when he said that," the editors wrote. "By law, insurers cannot continue to sell policies that don't provide the minimum benefits and consumer protections required as of next year. So they've sent cancellation notices to hundreds of thousands of people who hold these substandard policies." But "in all the furor, people forget how terrible many of the soon-to-be-abandoned policies were. Some had deductibles as high as $10,000 or $25,000 and required large co-pays after that, and some didn't cover hospital care."
RELATED: NBC's Gregory Hammers Axelrod: Why Didn't You Stop Obama from Making Insurance Pledge?
The Times went on to characterize the cancelled policies that don't meet the minimum standards of the ACA as one of the primary faults in the industry that reform was intended to fix:
This overblown controversy has also obscured the crux of what health care reform is trying to do, which is to guarantee that everyone can buy insurance without being turned away or charged exorbitant rates for pre-existing conditions and that everyone can receive benefits that really protect them against financial or medical disaster, not illusory benefits that prove inadequate when a crisis strikes.
The editors also recommended that young people, necessary participants for the law's exchanges to function, buy policies rather than pay the penalty. "Why pay the penalty and get nothing when you can pay a reasonable fee and get a good policy?" they conclude.
[h/t Blaze]
[Image via DePauw]
——
>> Follow Evan McMurry (@evanmcmurry) on Twitter
Have a tip we should know? tips@mediaite.com