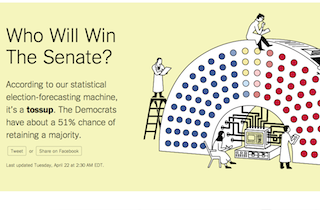 The New York Times' new statistical vertical The Upshot debuted Tuesday morning, the third new venture of its kind after Nate Silver's FiveThirtyEight and Ezra Klein's Vox, and wasted no time distinguishing itself from Silver, former Times statistical wunderkind, via the great question of our age: who will win the Senate?

You'll recall Silver set off a something of a hissy among Democrats last month when he predicted the GOP had a 60% chance of taking the Senate in the 2014 midterms. Democrats, who had treated Silver as a kind of data talisman during the 2012 election, felt betrayed or something by his new, less favorable analysis. (Silver told Dems to get bent.)
The Times' Upshot, however, sees the battle as a statistical tossup:

Both FiveThirtyEight and The Upshot find that the single most likely outcome is the GOP gaining six seats for a bare one-seat majority in the Senate. The difference appears to be in the likelihood of other outcomes. The Democrats have one more path to maintaining the majority in the Senate that the GOP did, as Vice President Joe Biden would break a tie in the event of a 50-50 split, which, according to the Upshot's model, gives the Democrats a very narrow edge in retaining their hold on the upper chamber. (This is not all that different from Silver's concluding prediction: "So our forecast might be thought of as a Republican gain of six seats — plus or minus five.")
Obviously, read both sites' breakdowns for more details and analysis, and keep in mind that both sites are perfectly clear-eyed that these are statistical projections, not Dick Morris-esque pronouncements.
Interestingly, The Upshot is much more graphic-oriented and interactive than Silver's page, which was heavy on textual exposition on methodology. The Upshot has dials you can spin and whatnot.
NB: One member of The Upshot team is Josh Katz. Remember him?
[h/t The Upshot]
[Image via screengrab]
——
>> Follow Evan McMurry (@evanmcmurry) on Twitter
Have a tip we should know? tips@mediaite.com