NYC Education Experts Protest Cathie Black's Appointment By Applying For Her Old Hearst Job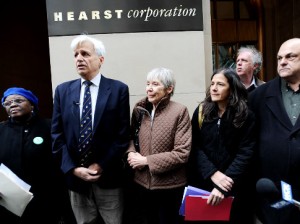 A lot of people were upset when Mayor Michael Bloomberg named Cathie Black chancellor of New York City's schools, and with fairly good reason—Black, the chairwoman of Hearst Magazines, has no experience working in the field of education. So education experts have decided to fight back the best way they know how: by trying to apply for Black's soon-to-be vacated position at Hearst.
Christina Boyle of the New York Daily News reports that Tuesday morning, a group of five teaching veterans and Green Party members—Betty Davis, Tony Gronowicz, Elizabeth Shanklin, Gloria Mattera and Tom Siracuse—showed up at the publishing giant's midtown headquarters and attempted to drop off their resumes:
"I'm absolutely unqualified to run a public company, which is exactly what Cathie Black is to run the New York City public school system," quipped Gloria Mattera, who has two graduate degrees in education and a son in the public school system.

The five job candidates vented about Black's appointment by Mayor Bloomberg, and one of the protesters, Tom Siracuse, was armed with the "Guide to Successful Publishing" to show his eagerness to learn.

The group didn't get far.

The candidates waltzed through the glass doors to Hearst headquarters and were greeted in the lobby by the deputy director of corporate security, Ted Lotti. He took their résumés and sent them a way.
It sounds like a clever protest, albeit a fairly anemic one—what, the group's ringleader couldn't convince more than four people to join the cause? Then again, maybe the rest of the education experts had actual work to do. Read the rest at the Daily News.
Have a tip we should know? tips@mediaite.com