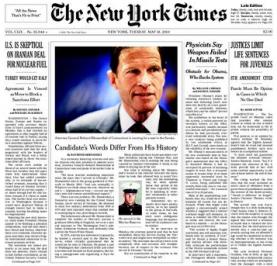 The New York Times may have officially cornered the market on political bombshells. Last night the paper went live with a report that Connecticut Democratic Senate candidate Richard Blumenthal had lied about fighting in the Vietnam War. He had not. Ever.
Blumenthal, the current Attorney General of Connecticut is, or was, considered the favorite in the upcoming election to replace Chris Dodd when he retires later this year, and has on numerous public occasions spoke about his experiences in Vietnam. This from the NYT:
"We have learned something important since the days that I served in Vietnam," Mr. Blumenthal said to the group gathered in Norwalk in March 2008. "And you exemplify it. Whatever we think about the war, whatever we call it — Afghanistan or Iraq — we owe our military men and women unconditional support."

There was one problem: Mr. Blumenthal, a Democrat now running for the United States Senate, never served in Vietnam. He obtained at least five military deferments from 1965 to 1970 and took repeated steps that enabled him to avoid going to war, according to records.

The deferments allowed Mr. Blumenthal to complete his studies at Harvard; pursue a graduate fellowship in England; serve as a special assistant to The Washington Post's publisher, Katharine Graham; and ultimately take a job in the Nixon White House.

In 1970, with his last deferment in jeopardy, he landed a coveted spot in the Marine Reserve, which virtually guaranteed that he would not be sent to Vietnam. He joined a unit in Washington that conducted drills and other exercises and focused on local projects, like fixing a campground and organizing a Toys for Tots drive.
Also, he was never captain of his Harvard swim team. Oy. Suffice to say, this raises a whole slew of uncomfortable questions. The first being, why is this only coming out now? (Actually, the first is probably 'what the hell was he thinking?') Blumenthal has been fairly prominent figure in Conn. political circles for years…did no one think to verify this sooner? Apparently not. Another being, in the age of the Internet did Blumenthal really think he could make it through to election with this storyline intact? There's only so much "I may have misspoke, I don't recall" you can get away with before a Lexis-Nexis search does you in.
Of course, it may not have been the Internet or the New York Times that did Blumenthal in. This morning Mike Allen speculated that Linda McMahon, the former World Wrestling executive seeking the Republican nomination, may have had a hand in it.
Who handed Ray the knife? Reporters had their suspicions when Linda McMahon, the former World Wrestling executive seeking the Republican nomination, sent a '**BREAKING NEWS** alert with the full text of the story 31 minutes after The Times' own 8:51 p.m. 'Breaking News Alert.' In case we missed it?
Politician lies about Vietnam War service and gets done in by former World Wrestling exec…this is definitely a storyline you could not make up. Blumenthal will be giving a presser later this morning. One suspects he might have suddenly come to the conclusion overnight that he needs to spend more time with his family, however thus far Blumenthal is condemning the NYT story calling it an "outrageous distortion" and asserting that he will stay in the race.
Update: Times stays mum on whether Blumenthal scoop relied on campaign oppo research [Yahoo]
Have a tip we should know? tips@mediaite.com