NYT Edit. Board After Trump Meeting: 'Alarming' How 'Thinly Thought' Out His Positions Are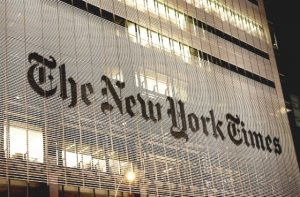 The New York Times editorial board posted an editorial last night reacting to their big meeting with Donald Trump, and while they listed some things that were "good to hear," there were also certain "alarming" things that they're concerned about.
They expressed encouragement over how he disavowed the white nationalists supporting him and how he moderated on climate change, writing, "If President-elect Trump moderates his views, and then crystallizes those views in policies that, as he put it, 'save our country,' we will commend him on growth in office."
However, they still have serious concerns about his policies. Specifically, his unclear stances on some of them:
It was alarming to confront how thinly thought through many of the president-elect's stances actually are. Consider climate change. Mr. Trump said that he valued clean air and water, but that he hadn't decided if combating climate change was worth the expense. "I have a totally open mind," he said, making a virtue of not knowing the issue…

We would applaud any sensible change of position, however arrived at. Mr. Trump's apparent flexibility, combined with his lack of depth on policy, might be grounds to hope he will steer a wiser course than the one plotted by his campaign. But so far he is surrounding himself with officials eager to enact only the most extreme positions. His flexibility would be their springboard.
The Times editorial board also expresses dismay that Trump has not made "any" effort to reach across party lines for administration picks. (For the record, earlier this week Trump met with Democrat Tulsi Gabbard, though it's not clear whether she'll be nominated for a Cabinet position.)
The Times also calls Trump out for the one area he's most inflexible on:
He made clear he has no intention of selling his businesses and stepping decisively away from corrupting his presidency with an exponentially enhanced version of the self-dealing he accused Hillary Clinton of engaging in.
You can read the full editorial here.
[image via Osugi/Shutterstock]
— —
Follow Josh Feldman on Twitter: @feldmaniac
Have a tip we should know? [email protected]
Josh Feldman - Senior Editor