Trump Interview with Black Pastor Will Be Heavily Scripted and Edited, NYT Reports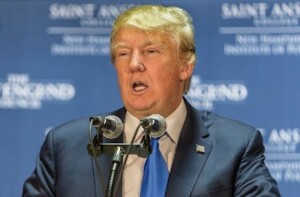 The New York Times may have just thrown a wrench into Donald Trump's plans to reach out to the black community. Trump is visiting a black church in Detroit on Saturday and sitting down for an interview with Bishop Wayne T. Jackson. (It will not be live, it will be taped and shown a week later on Jackson's Impact Network.)
And according to the Times, it will be heavily scripted and edited.
And just to be clear, they are not just scripting Trump's answers on issues concerning the black community, they are also scripting the questions.
Per NYT:
The document includes the exact wording of answers the aides are proposing for Mr. Trump to give to questions about police killings, racial tension and the perception among many black voters that he and the Republican Party are racist, among other topics.

The [GOP] official said the answers could change based on feedback from the black Republicans they are consulting with.
The interview will also reportedly be edited "so that the final version reflected the campaign's wishes."
And the Times even has excerpts of what Trump's team wrote up for him. For example, in response to a question about racial tensions that invokes Charleston, here's what they have for Trump to say:
Our best hope for erasing racial tensions in America is to work toward a color-blind society. In business, we hire, retain and award based on merit. In society, however, we have divisions that can only be eliminated if we have equal opportunity and then equal access to programs and institutions that will lift all people in the country. We have to reform our tax system so that we can spur economic growth for the long haul. We have to have stronger enforcement of immigration laws. We have to renegotiate our trade deals so that we can bring advantage back to the American workforce. But perhaps most important is that we must provide equal opportunity for a quality education for all Americans. The higher the educational attainment, the greater the likelihood one can climb the economic ladder. We must bring school choice programs to our cities and we must get rid of Common Core. We must make sure that access, affordability and accountability are brought into our higher education system. Without a focus on educational outcomes for every American, we will perpetuate the permanent underclass that progressive policies have sustained. Republicans like me need to have the courage to speak the truth about where we are and what has to be done. We have to have the courage to go into communities and work with everyone there to make sure that our schools are good and that our children have access to the whatever educational situation they may need. This is not something one person can do, but it is something that we can do together.
They also have him responding to charges of racism by saying, "The proof, as they say, will be in the pudding."
Trump's team even has him speaking more broadly about what he'll do for all Americans as opposed to addressing the specific concerns of African-Americans:
Mr. Trump what is your vision for America? And specifically Black America?…

As President, I must serve all Americans without regard to race, ethnicity or any other qualification. I must approach my task with the utmost wisdom and make sure that all Americans have opportunities to achieve to their potential. If we are to Make America Great Again, we must reduce, rather than highlight, issues of race in this country. I want to make race disappear as a factor in government and governance.
Oh, and just to cap it all off, in response to a question pointing out polls that give him 1 percent support with blacks, they actually have Trump bragging, "By the way, my support is now up to 8% and climbing."
You can read all the excerpts here.
[image via Shutterstock]
— —
Follow Josh Feldman on Twitter: @feldmaniac
Have a tip we should know? [email protected]
Josh Feldman - Senior Editor