NYT's Bret Stephens Compares Rex Tillerson to Pol Pot: Could be 'Worst Secretary of State Ever'
New York Times in-house Conservative, Bret Stephens, raised some eyebrows on the set of Morning Joe, Tuesday with a blistering critique of Secretary of State Rex Tillerson that ended with Stephens comparing him to Pol Pot.
The genocidal dictator left more than a million dead in Cambodia which he ruled between 1975 and 1979.
So how did we get here? Let's break it down.
"How do you rate, at this point, Rex Tillerson?" asked Scarborough.
"I was a stern critic of John Kerry, but I think Tillerson really is up there as a nominee for worst Secretary of State ever," said Stephens. The New York Times columnist took issue with how hollowed out the department has become under Tillerson's direction. "The State Department is also part of the machinery of government and that machinery has to run in order for normal things to happen like having relationships with foreign countries or having consular services for U.S. people."
Then came the money line.
"Tillerson seems to be of a kind of Maoist school, maybe it's Pol Pot."
Scarborough — perhaps knowing the moment would be immortalized here — immediately went off.
"Wow. Ok that is… Ok if that is in fact the case, that is like one of the worst Secretary of State's of all time."
Obama Press Secretary, Josh Earnest seemed to think it was pretty funny, while Mediaite alum Noah Rothman looked perturbed.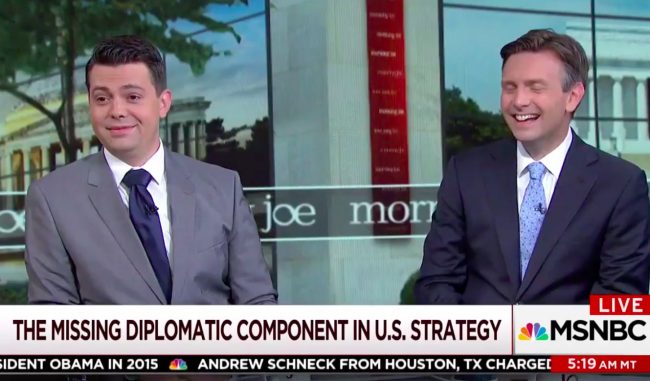 "I don't mean the Killing Fields," Stephens helpfully clarified. "I mean the year zero mentality. Blow it all up, see what happens, wait for a while and then try to arrange the pieces as you see fit. That might work in a start-up environment. It doesn't work in a bureaucracy with 70,000 people."
So to recap — like Pol Pot, but not the "killing fields" Pol Pot.
Got it.
UPDATE – 10:00 a.m. EST: Stephens is walking back on the Pol Pot metaphor:
Wrongly, @paulcadario. I let rhetorical exuberance get the better of me. RT in no way PP, not remotely or by analogy. I apologize. (BLS) https://t.co/7ST1AUrLwO

— Bret Stephens (@BretStephensNYT) August 22, 2017
[image via screengrab]
Follow Jon Levine on Twitter / Facebook.
Have a tip we should know? tips@mediaite.com