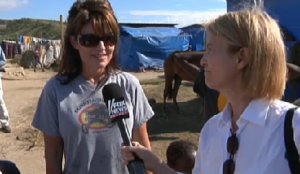 During her visit to Haiti this past weekend, former Alaska Governor Sarah Palin told reporters that anyone considering lifting US government aid to Haiti should visit the disaster-torn nation first, a reference to Senator Patrick Leahy's statement calling for an aid freeze in response to Haiti's contested elections. Leahy later clarified, through a spokesperson, that he "was not referring to humanitarian or reconstruction aid."
At White House briefings Monday and Tuesday, I asked Press Secretary Robert Gibbs about the White House's position on an aid freeze to Haiti: (from C-Span)
A senior administration official later referred us to a response given by Secretary of State Hillary Clinton at a press conference Monday:
I think Senator Leahy, who is a strong supporter of American foreign aid and humanitarian relief assistance, is expressing a growing frustration that you will find not only in Congress, but in our government and the American people, that as we're approaching the one-year anniversary of the Haitian earthquake there hasn't been the kind of coordinated, coherent response from the Government of Haiti that is called for. We understand that the government itself was badly damaged, individuals were traumatized. But there has to be a greater effort and there has to be a more focused approach toward problem solving.

So I think that Senator Leahy, who is a very significant member of the Senate and heads the subcommittee that determines where our foreign aid goes in the United States Government, should be heeded by the leaders of Haiti, that this is a very strong signal that we expect more and we're looking for more.

From the Administration's perspective, we are still working to try to resolve many of the questions raised by the election and will continue to do so. But at the same time, we don't want to punish the people of Haiti because of the flaws that were alleged to have occurred in the election. People still need to have their shelter, their education, their clean water, their health, their economic opportunities addressed.
On the Haitian elections, the senior administration official gave Mediaite this statement:
We support the Haitian government's call for all political actors to remain calm and to encourage their supporters to do the same.

There is a process for candidates to contest the results through Haiti's Provisional Electoral Council, and we urge them to do so.

Along with Haiti's international community partners, we stand ready to support efforts to thoroughly review election irregularities to ensure the results are consistent with the will of the Haitian people as expressed in their votes.
Have a tip we should know? tips@mediaite.com