Obama Camp Scales Back Demand For Romney's Tax Returns From 10 To 5 Years, Romney Camp Responds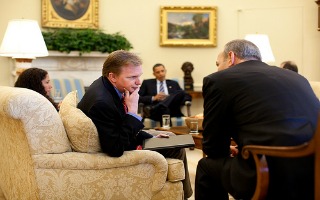 On Friday, Jim Messina, President Barack Obama's campaign manager, sent a letter to Mitt Romney's campaign manager, Matt Rhodes, in which he scaled back the demand by the President's campaign to see 10 years of Romney's tax returns to just five years. If the Romney camp agrees, Messina pledges to drop their demands for the release of further years of tax returns.

RELATED: Tamron Hall In Heated Exchange With Republican Guest Over Romney's Medicare Plan, Tax Returns
In the letter, Messina says that if Romney releases at least five years of tax returns, Obama's campaign is prepared to drop their demands for future tax returns. "[I]f the Governor will release five years of returns, I commit in turn that we will not criticize him for not releasing more–neither in ads nor in other public communications or commentary for the rest of the campaign," writes Messina.
This request for the release of five years, covering the complete returns for 2007-2012, is surely not unreasonable. Other Presidential candidates have released more, including the Governor's father who provided 12 years of returns. In the Governor's case, a five year release would appropriately span all the years that he has been a candidate for President. It would also help answer outstanding questions raised by the one return he has released to date, such as the range in the effective rates paid, the foreign accounts maintained, the foreign investments made, and the types of tax shelters used."
Rhodes released a response to that request on Friday morning thanking Messina for the concession, but declining to release more tax returns. He went on to say that, while the Obama campaign beats the drum demanding Romney's tax returns, the Romney/Ryan campaign will continue to address the stagnant economic recovery and their proposed fixes to Medicare.
Hey Jim,
Thanks for the note.
It is clear that President Obama wants nothing more than to talk about Governor Romney's tax returns instead of the issues that matter to voters, like putting Americans back to work, fixing the economy and reining in spending.
If Governor Romney's tax returns are the core message of your campaign, there will be ample time for President Obama to discuss them over the next 81 days.
In the meantime, Governor Romney will continue to lay out his plans for a stronger middle class, to save Medicare, to put work back into welfare, and help the 23 million Americans struggling to find work in the Obama economy.
See you in Denver.
> >Follow Noah Rothman (@Noah_C_Rothman) on Twitter
Have a tip we should know? tips@mediaite.com