Obama Campaign Announces $53 Million Raised In March, $127 Mil In First Quarter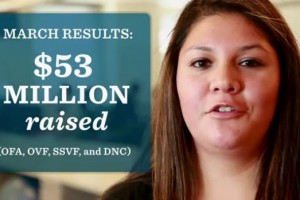 President Obama's reelection campaign announced its fundraising totals for March this morning in a web video to supporters, which is how they have been making these announcements since the campaign began. In this month's edition, various grassroots donors talked about their own small donations, and the campaign's $53 million total for March. Combined with the $29 million raised in January and $45 million in February, Obama For America has raised an impressive $127 million in the first quarter.
That total comes close to the campaign's 2008 first quarter total of $133 million, but the $210 million that the President has raised thus far lags well behind the $262 million he had collected up to this point four years ago. Although the President has been out-raising rival Mitt Romney by better than a 2-to-1 ratio up to this point, this marks the last fundraising quarter in which GOP donors will be splitting their cash among other primary candidates. Going forward, Romney figures to do much better as the lone Republican candidate.
Add to that the hundreds of millions expected to flow to pro-Romney, anti-Obama SuperPacs, and it's clear the President's campaign has its work cut out for it. Last week, progressive SuperPac American Bridge announced Q1 donations of $5.7 million between three Democratic SuperPacs, while Priorities USA Action PAC, founded by two former White house staffers, hasn't fared much better, despite President Obama's much-criticized encouragement to donors that they give to groups like Priorities.
Once again, the Obama campaign emphasized the role of small donors in its fundraising efforts, trumpeting 190,000 first-time donors, the 97% of donations that were under $250, and the $50.78 average donation. While the campaign parses these stats to make the small donor numbers seem as stark as possible, the President has been beating Mitt Romney by a country mile in apples-to-apples small donor comparisons.
Now that the race has boiled down to Mitt Romney vs. President Obama, April's fundraising totals will be a hotly-anticipated bellwether for the remainder of the race. While the President was roundly criticized for his decision to encourage donations to SuperPACs in February, that decision sets up an interesting strategic opportunity. Before that announcement, it was possible to argue that the billionaire bucks were flowing to GOP groups, and not Democratic ones, because the President didn't want them. Now, the Obama campaign can argue that the huge gap in SuperPAC funding proves that, even when asked, the individual billionaire just doesn't feel like Obama has much to offer them.
Here's the video, from Obama/Biden 2012:
Have a tip we should know? tips@mediaite.com