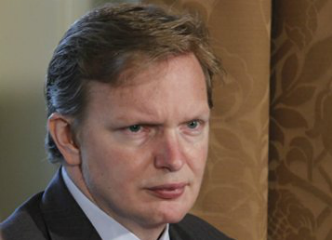 Salon writer David Sirota unearthed Friday morning details that could could become a new controversy for President Barack Obama's campaign manager Jim Messina. Apparently a recent BusinessWeek profile of Messina reveals that Sen. Max Baucus (D-MT) was involved in the making of notably anti-gay 2002 campaign ad endorsing the Baucus senatorial campaign, despite years of publicly denying involvement.
The controversial ad features porn-groove music set to old footage of a video from Baucus' Republican opponent Mike Taylor's cosmetics business. The ad (featured below) showed Taylor rubbing cream on another man's face, and as the ad ends, showed Taylor seemingly stretching to grab the other man's crotch as a narrator says, "Mike Taylor: Not the way we do business in Montana."
Sirota wrote that "Thanks to the deliberate choice of music, the footage of man-on-man physical contact and the voiceover message, the ad is considered the epitome of homophobic demagoguery — a spot ostensibly about Taylor's Department of Education loans, but really designed to raise questions about Taylor's sexuality in a culturally conservative state." He added that the ad unmistakably implied that Taylor is homosexual.
Sirota continued:
When Taylor subsequently dropped out of the race, Baucus meekly defended some of the substance of the loan allegations in the ad. (Messina worked as Baucus' chief of staff at the time.) However, he vigorously and repeatedly denied any involvement in the spot.

…As the Billings Gazette reported at the time, Baucus "stressed he had nothing to do with the ad" and that "the party did its own research and produced the ad." Baucus almost certainly issued such blanket denials both because he didn't want to be tagged as an anti-gay bigot, and because even back then, before the McCain-Feingold campaign finance reform legislation, it was blatantly illegal for a candidate and his campaign to directly "coordinate" ads paid for by political party organizations
Now, Sirota said, the recent BusinessWeek profile of Messina reveals that Baucus was actually very much involved in the campaign ad. The article quotes Baucus describing his experience with the ad: "I'll never forget when he showed me that ad. We were in Bozeman in a motel. The curtains were drawn. He said, 'Max, what do you think?' They were afraid I wasn't going to like it. I loved it!"
"So to review," Sirota continued, "To protect himself politically and legally, Baucus in 2002 insisted he knew nothing about — and had nothing to do with — the ad. Now in 2012, in his eagerness to promote his pal Messina, Baucus admits that at minimum, he and Messina knew all about the ad."
Check out the offending 2002 ad below:
(H/T Salon)
>> Follow Andrew Kirell (@AndrewKirell) on Twitter
Have a tip we should know? tips@mediaite.com