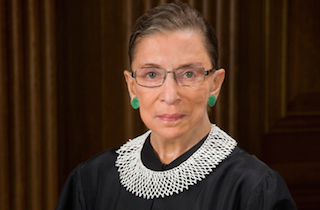 If Supreme Court Justice Ruth Bader Ginsburg, who turns 82 next March, decided to retire before the end of 2016, would President Barack Obama be able to get an equally liberal replacement confirmed in what could very well be a fully Republican-controlled Congress?
Ginsburg herself expressed concerns over that issue in a recent interview with Elle magazine, warning, "If I resign any time this year, he could not successfully appoint anyone I would like to see in the court."
When confronted with those comments by Jeffrey Toobin in a new piece for The New Yorker on Obama's judicial legacy, the president disagreed. "Well, we've got a pretty good track record," Obama told Toobin, referring to his successful appointments of Elena Kagan and Sonia Sotomayor. "We've got a couple of Supreme Court Justices confirmed who I think are doing outstanding work.
"My sense is that the Senate necessarily has to treat the Supreme Court nomination process differently than the circuit- or district-court nomination process—higher profile, people are paying attention," Obama continued, saying that because of increased media coverage and public interest "some of the shenanigans that were taking place in terms of blocking appointments, stalling appointments, I think are more difficult to pull off during a Supreme Court nomination process."
"Having said that, Justice Ginsburg is doing a wonderful job," the president added, making sure to stress, as Ginsburg herself did in the Elle interview, that she is not going anywhere anytime soon. "She is one of my favorite people. Life tenure means she gets to decide, not anybody else, when she chooses to go."
[Photo via Wikimedia Commons]
— —
>> Follow Matt Wilstein (@TheMattWilstein) on Twitter
Have a tip we should know? tips@mediaite.com