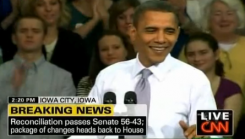 President Obama would like you to know that the health care bill passed and, contrary to the prediction of….many, it was not followed by Armageddon. Obama addressed a rally in Iowa this afternoon where he gently mocked the overheated rhetoric that flooded the airwaves the last few weeks.
Over the past year there has been a lot of misinformation spread around about health care reform. Plenty of fear-mongering, plenty of overheated rhetoric. Turn on the news, see the same folks are still shouting about it: it's going to be the end of the world if this bill is passed. I'm not exaggerating. The leaders of the Republican party, they called the passage of this bill Armageddon! Armageddon. End of freedom as we know it! So after I signed the bill, I looked around to see if there were any asteroids falling. Any cracks opening up in the earth. Turns out it was a nice day.
It must be said the President is one cool customer (video below). This is not a new thing.
The other day I pondered what would be the next political storyline the media would frenzily pursue now that health care was done. Well, voila. It's Thursday and just about everyone in the media has spent the last three days talking almost exclusively about the rash of death threats against various members of Congress who voted for the health care bill. But should they be? Politico's Ben Smith provides an alternate example of how to deal with the "freak show" courtesy of (then senator) President Barack Obama.
As Barack Obama's campaign for president heated up, the Secret Service fielded a stream of threats of various seriousness. His canvassers sometimes encountered hostile, even racist, remarks and scary situations. The long, ugly spring of 2008 produced a smashed window in Indiana, and all of these things drew the occasional interest of the press…The Obama campaign, however, always downplayed the incidents. They could easily, privately have forwarded the local press clips around to reporters to gin up reports of out-of-control Republicans. They never, in my memory, did. They dismissed the storyline and declined to comment on the instances. When Obama himself was asked about the role of racism in fueling opposition, he always minimized it.

The flickers of racism and threats of violence were real — as they are now — and the decision to downplay them was a political one. Obama was selling himself to the nation as a unifying figure…A freakshow of division would have badly undercut that. And one large reason that the storyline never caught on was that the campaign, in its extremely disciplined way, refused to participate in it.
Smith goes on to point out that the White House is loosely maintaining a similar policy with the current outbreak….unlike the Democratic party, which has jumped right into the finger-pointing fray. Unifying is so 2008, I guess. Or perhaps this is all part of Obama's new plan: let the freak show take center stage while you get everything



Have a tip we should know? tips@mediaite.com