Obama Slams HuffPost For Making Potential Fed Chair Nominee Out To Be 'Progressive Whipping Boy'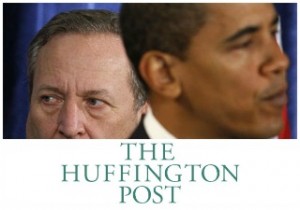 While the rest of the country has been captivates by trials and leakers and royal babies, President Obama has been looking for a new Fed chairman to replace the outgoing Ben Bernanke. The apparent frontrunner so far is Larry Summers, who previously served as an economic advisor to Obama, as well as a former Treasury Secretary and president of Harvard University. The Huffington Post has been largely critical of Summers, and during a closed meeting Wednesday, Obama reportedly slammed HuffPo for making Summers its "progressive whipping boy."
HuffPo's coverage of Summers has been very critical and unrestrained, with pieces titled "The Bungled Coronation of Larry Summers" and "Surely The Obama Administration Is Joking About This 'Have Larry Summers Run The Federal Reserve' Thing!", and even running an article on Democrats' concerns that nominating Summers would overlook the qualified Fed Vice Chair Janet Yellen.
"Yellen's ability to spot the problems on Wall Street, and Summers' failure to foresee the consequence of deregulation, both flow from the perspectives they have as economists. Yellen looks first at what's known as the "real economy" — unemployment, wage growth, housing, and other gauges of how real people are faring. Summers, for most of his career, has been oriented toward Wall Street."
Yesterday Obama held a closed-door meeting with House Democrats where he gave a "full-throated defense" of Summers. An unnamed lawmaker said Obama basically told Democrats not to "talk shit" about Summers. But Obama also reportedly had some choice words for HuffPo. First, Democrat Brad Sherman revealed that Obama said "not to believe everything you read in The Huffington Post."
Secondly, HuffPo reporter Zach Carter tweeted this out following the meeting.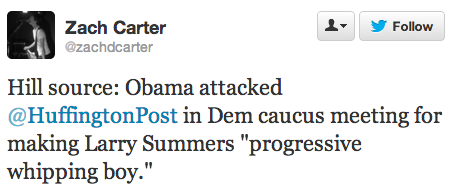 h/t Business Insider
—–
Follow Josh Feldman on Twitter: @feldmaniac
Have a tip we should know? [email protected]
Josh Feldman - Senior Editor