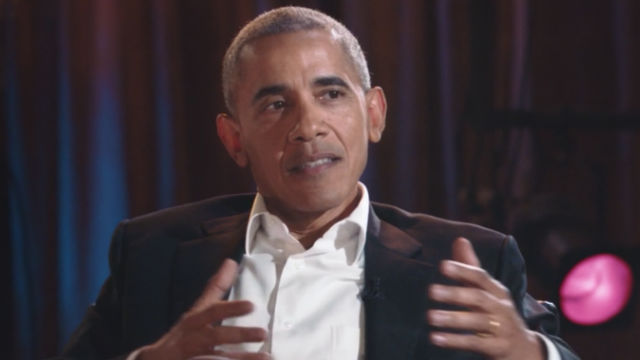 While he has been laying low for much of President Donald Trump's White House tenure, former President Barack Obama finally spoke out about the current state of politics in this country, saying people are "right to be concerned."
Obama, who according to Politico made the comments while speaking at a California donor event for the Democratic National Committee, did not specifically call out Trump by name — as many Democrats have wished he would do — but he did make some of his more politicized comments since leaving the White House.
"Fear is powerful," the former president said. "Telling people that somebody's out to get you, or somebody took your job, or somebody has it out for you, or is going to change you, or your community, or your way of life — that's an old story and it has shown itself to be powerful in societies all around the world. It is a deliberate, systematic effort to tap into that part of our brain that carries fear in it."
Obama continued by advising Democrats to look forward to the 2018 midterms to inspire change in this country, rather than focusing on one leader to fix their party.
"Do not wait for the perfect message, don't wait to feel a tingle in your spine because you're expecting politicians to be so inspiring and poetic and moving that somehow, 'OK, I'll get off my couch after all and go spend the 15-20 minutes it takes for me to vote,'" he added. "If we don't vote, then this democracy doesn't work."
[image via screengrab]
Follow the author on Twitter (@calebecarma).
Have a tip we should know? tips@mediaite.com