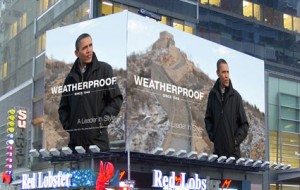 Even as President Obama's approval rating hits its speed bumps, one company, Weatherproof, is trying to exploit his popularity in an unauthorized ad that looms over Times Square.
Weatherproof bought an AP photo of Obama wearing a Weatherproof jacket during his trip to China and ran it without permission. Now, the White House wants them to take it down.
In a press statement, White House spokesman Ben LaBolt said that "The White House has a longstanding policy disapproving of the use of the President's name and likeness for commercial purposes.
Though Weatherproof has claimed that they didn't think permission was necessary, since the ad wasn't technically an endorsement, this seems far-fetched: more likely, they were counting on a free dose of publicity, whether or not the ad would have to be taken down prematurely. Does this count?
Will Weatherproof's piggybacking stunt be worth it? According to Ben Smith, the German clothing manufacturer is likely setting itself up for a fall, given New York's legal restrictions against using a person's likeness in advertising without his or her consent:
A couple of sources, including a New York lawyer who knows the state law on the issue well, say the company's on quite thin legal ice, citing section 50 of New York Civil Rights law, which says that "A person, firm or corporation that uses for advertising purposes, or for the purposes of trade, the name, portrait or picture of any living person without having first obtained the written consent of such person, or if a minor of his or her parent or guardian, is guilty of a misdemeanor."

Woody Allen won a substantial settlement against American Apparel under the law.
Last night, Fox News reported on the controversy (h/t Breitbart):
Have a tip we should know? tips@mediaite.com