Throughout her various Capitol Hill testimonies, Health & Human Services Sec. Kathleen Sebelius promised to report HealthCare.gov's enrollment numbers by "mid-November." According to sources close to the figures, it turns out the website brought in 40,000 to 50,000 enrollees in private plans through last week.
That 40-50k figure first appeared on the Wall Street Journal's homepage Monday afternoon: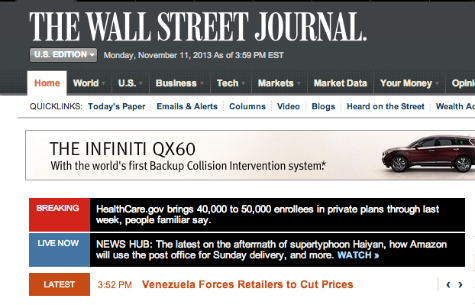 The paper later followed up with an article explaining that the website fell "far short" of its target:
Initial reports suggest that fewer than 50,000 people successfully navigated the troubled federal health-care website to enroll in private health insurance plans as of last week, two people familiar with the matter said Monday.

The early tally falls far short of internal goals set by President Barack Obama's administration in the months leading up to the opening of the HealthCare.gov site Oct. 1, and the low number has worried health insurers that are counting on higher turnout.
Those low numbers were expected, however, depending on which government officials you speak with:
Ms. Tavenner, who runs the Centers for Medicare & Medicaid Services, and her boss, Health and Human Services Secretary Kathleen Sebelius, both have told Congress that the initial numbers would be low.

So far, private health plans have received enrollment data for between 40,000 and 50,000 federal marketplace customers, the people said. The federal marketplace uses an industry standard format to exchange enrollment information, known as an 834 transmission.

Health and Human Services spokeswoman Erin Shields Britt said Monday she couldn't confirm the enrollment numbers. She added, "We have always anticipated that initial enrollment numbers would be low and increase over time."
Read more here.
— —
>> Follow Andrew Kirell (@AndrewKirell) on Twitter
Have a tip we should know? tips@mediaite.com