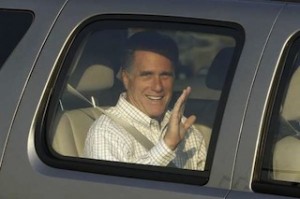 Republicans have attacked some of President Barack Obama's recent headline-grabbing statements, calling them political stunts in the midst of a campaign — less principled declarations of belief and more pragmatic plays in the game of presidential politics. But Republican presidential candidate Mitt Romney is playing the game too, except where President Obama's playbook calls for opening his mouth, Romney's calls for keeping his closed.
After President Obama voiced his support for gay marriage in May, Republican strategist Karl Rove criticized it as a political move. Sen. Marco Rubio called Obama's executive order on immigration an "election year stunt" last week, and when former RNC chair Michael Steele was asked about it, he said it was "pure, blatant politics with churning out that vote."
President Obama's critics have a point. For three years, President Obama had the same views on gay marriage as Rick Santorum, and he was on track to deport more undocumented immigrants in one term than President George W. Bush did in two. The timing of his "evolution" on the issues is suspect. Obama appears to be playing to his base, hoping to reignite supporters who aren't as fired up as they were in 2008.
Meanwhile, Romney is playing the long game, dodging specifics and sticking to the economy. That strategy worked for the last challenger who defeated a sitting president, Bill Clinton in 1992, so Romney's laser-like focus is a time-tested strategy. No matter the issue, Romney pivots back to the economy. Recounting President Obama's statement that his presidency will be a "one-term proposition" if he doesn't turn the economy around has become a Romney staple. "I'm here to collect," he often adds.
Candidates are sometimes forced to break from their messaging and address important issues as they arise in public discussion, however. Immigration has become one of those issues following President Obama's executive order and the Supreme Court's ruling on Arizona's controversial SB 1070 Monday. This is an issue whoever is sworn in on inauguration day next year will have to deal with. But Romney doesn't want to talk about it.
RELATED: Rupert Murdoch Takes Shot At Romney: 'Seems To Play Everything Safe'
Speaking at the National Association of Latino Elected and Appointed Officials Thursday, Romney said he had been asked whether he would reverse President Obama's executive order, and then didn't answer the question. Following the Supreme Court's decision on Arizona's SB 1070, he released a written statement and his campaign said he would have no further comment on the issue.
"Today's decision underscores the need for a President who will lead on this critical issue and work in a bipartisan fashion to pursue a national immigration strategy," Romney's statement read. "President Obama has failed to provide any leadership on immigration."
If Romney is going to criticize President Obama as a leader who won't lead on a critical issue, he needs to lead himself and be willing to outline a viable alternative to President Obama's "broken promise." Romney has already said he advocates more visas and permanent residency to eligible graduates — keeping families together and fixing the "bureaucratic nightmare" that is the present system — so he should have plenty to say about the issue. But it seems that Romney doesn't want break focus from talking about the economy — except that immigration reform is an "economic necessity." At least that's what Romney said to National Association of Latino Elected and Appointed Officials last week.
Romney updated the Clinton '92 campaign's unofficial motto "It's the economy, stupid" to "It's still about the economy, and we're not stupid" after winning the New Hampshire primary. If that's the case, voters will see through political stunts and talking points and will look for a candidate who offers a viable plan and solutions for the issues we face.
Follow Hunter Schwarz (@hunterschwarz) on Twitter
Have a tip we should know? tips@mediaite.com