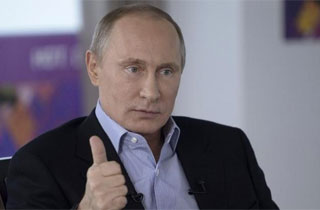 King Thoughtpolice Vladimir Putin announced today that he was banning swearing in the Russian media, meaning that saying four specific swear words ( in music, movies, books, literature, and television will be banned. Well, fuck.
CNN breaks down the details of the new ban: movies and television containing obscene language will not be distributed in Russia (welp, there goes Game of Thrones), while offending books, CDs, DVDs, magazines, and the like must be shrink-wrapped and labeled with a warning that the material "contains obscene language." The penalties are somewhat minor, but escalate with repeated offenses: "individuals caught using foul language face a fine of up to $70, while officials can be fined up to $40 and businesses nearly $1,400. They face a higher fine and a three-month suspension of business for repeated offenses."
It may sound like your grandmother's paradise, but it's really a huge step back for freedom of speech in Russia, considering that Putin is specifically targeting mat, a type of macho swearing that goes back for centuries and is often used for satire, political protest, and all the other language that Putin doesn't like (it's the type of language that criticizes him, FYI). David Remnick at the New Yorker describes mat's importance, and explains why the Russian government specifically banned just four words:
You won't read it in your local family newspaper, but the law centers on the four pillars of mat: there is khuy ("cock"), pizda ("cunt"), ebat' ("to fuck"), and blyad ("whore"). Sorry about that, but the English equivalents are, if anything, rather pallid and polite. And that's just the beginning, the base ingredients for the great lexical fantasia of mat. As Victor Erofeyev describes at delicious length in his 2003 article "Dirty Words," there are thousands of variations and elaborations on these four words, and they go back to the earliest Russian classics.
While mat used to be the exclusive domain of manly men being all working class (Putin is apparently legendary at mat), the liberalization of Russia in the '90s saw mat proliferate among the middle class and even with women, leading conservative elements to see the swearing as a sign of "pro-Western, permissive influences." (Ignoring the fact that nearly all the great Russian writers used mat. We're serious. Please read this poem by Alexander Pushkin about a tsar whose forty daughters lack pizda.)
[The New Yorker]
[Image via Ria Novosti/Reuters]
—
>> Follow Tina Nguyen (@Tina_Nguyen) on Twitter
Have a tip we should know? tips@mediaite.com