OK! Reports, "Yes! Jennifer Aniston Is Having A Baby!" Jennifer Aniston Reports "No! I Am Not!"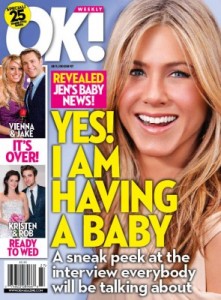 Nobody would be that shocked to discover that celebrity gossip tabloids occasionally print false statements, but, earlier today, Gossip Cop caught OK! Magazine (a magazine whose title is either a shouted declaration or the name of a musical) printing a cover story that goes beyond the typical level of tabloid lies. The magazine cover proudly proclaims a story about Jennifer Aniston's baby plans that Aniston's reps told Gossip Cop is all sorts of untrue. Come on, OK! Magazine, we expect better from you. You're supposed to be a celebrity gossip tabloid, not a British celebrity gossip tabloid.
From Gossip Cop:
"According to OK!, 'Jen is finally telling the world that she's taking the plunge into real-life motherhood,' and she revealed this scoop in a 'startling frank interview for a fall issue of a monthly U.S.-based women's magazine.'

Like the unnamed U.S.-based magazine, OK! quotes an unnamed source who claims, 'Jennifer says in the interview that she will do everything in her power to have a baby 'as soon as possible,' and she says she is ready for that now.'

The so-called 'source' continues, 'This is really her public announcement that she is emotionally ready for children. She doesn't get into specifics beyond saying how much she wants to be a mother – and that she's actually exploring how she can do that.'"
First off, what kind of a scoop would this be even if it were true? Their big story is that Jennifer Aniston gave an interview to another magazine in which she told them that she is planning on having a baby eventually? Gee, stop the presses. People pay for this?
Anyway, Aniston's reps told Gossip Cop that Aniston never gave such an interview. To make matters worse, OK! (are you imagining that I'm yelling every time I type that title?) also reports that Aniston is considering having the baby with either her ex-boyfriend Gerard Butler or current beau Jason Sudeikis. Well, that's certainly interesting news…or at least it would be except for the fact that "Aniston NEVER dated Butler. And she is NOT dating Sudeikis."
Yep. Now that is good reporting.
Anyway, the moral of the story is never trust a celebrity gossip tabloid.
Now if you'll excuse me, I have to go write my five-part exposé on the sky being blue.
For the full report, complete with delightful burns on OK!, read the full Gossip Cop post here.
Have a tip we should know? tips@mediaite.com