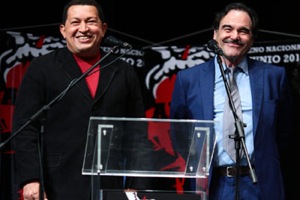 After putting together one of the most impressive filmographies in history (Alexander notwithstanding), Oliver Stone has been working on a career shift from blockbuster storyteller to a less belligerent Michael Moore, having made films about 9/11 and the Bush administration and a favorable documentary on Cuban leader, Fidel Castro. He's currently in Latin America promoting his pro-Hugo Chavez film South of the Border, and he has some friendly advice for the colorful dictator: stop spending so much time on TV!
Stone is an open supporter of Chavez and sought the rather quixotic goal of making him appear like less of a "buffoon" with his new project. Meanwhile, Chavez is very happy with the film, stretching his poetic muscles to call it "a splinter in the eagle's talon" and wrote about it favorably on his blog.The AP caught Stone's statements about Chavez:
"I admire Hugo. I like him very much as a person. I can say one thing. … He shouldn't be on television all the time," Stone said at a news conference. "As a director I say you don't want to be overpowering. And I think he is sometimes that way."

Chavez makes near-daily speeches that run for hours, often reminiscing, lecturing about history, announcing news and breaking into song. His Sunday program can last six hours or more. "He's a soldier and he speaks from his heart," Stone said. "His vision is huge. … And he will go down in history."

The Oscar-winning director hopes his documentary will help people better understand a leader who Stone said is wrongly ridiculed "as a strongman, as a buffoon, as a clown." "This is a positive portrayal of a man who Americans do not have access to," Stone said. "He is demonized in the American and European press as a monster."
Stone can't be the only person in Venezuela to think a bit fewer six-hour episodes of Aló Presidente would make life better, but he's probably the only one allowed to say it without going to jail. South of the Border is scheduled for release in June.
Have a tip we should know? tips@mediaite.com