Omarosa, Trump's Director of African American Outreach, Brushes Off Poor Polling in Black Community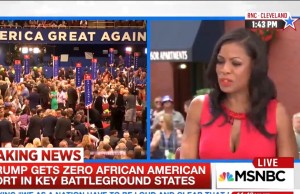 Omarosa Manigault has been named Donald Trump's Director of African American Outreach and she is ready to take her new position on the road. Specifically, the DAAO spoke to MSNBC from Cleveland while on location at the Republican National Convention.
If you can't quite place how you know her, she rose to fame during the first seasons of NBC's The Apprentice, then got frequently name-dropped on VH1-style countdown shows about the craziest moments in reality TV. She returned to the national stage again in the last year, serving as a surrogate for Trump and making a bunch of cable news appearances.
The first thing that happened to the newly-minted DAAO was that she was shown polling numbers that indicate 0% of respondents of color in Ohio and Pennsylvania like or want to vote for her boss.
She rolled with it, insisting that she had no idea which black people were polled because she just got done hanging out with a group of 300 black people who love Trump.
She went on to claim that there is plenty of black representation among this year's RNC speakers. This was not the first time she clashed with a reporter over Trump's decisions regarding and statements about people of color.
We'll see how she does in this new role, but for now, the shock that she was given it at all is still strong:
(I know just pointing something out and saying it's real is a cheap form of comedy but it's a reasonable form of horror.)

— Mark Harris (@MarkHarrisNYC) July 18, 2016
Good luck with that whole outreach thing, Omarosa.

Trump Gets 0% Support From Black Voters in Ohio, Penn. https://t.co/cTMHweSO2n

— Josh Feldman (@feldmaniac) July 18, 2016
When I heard that Omarosa will be Trump's African-American Outreach Director. pic.twitter.com/pB9nia3v9F

— Damon Bethea (@damonbethea1) July 18, 2016
[image via screengrab]
For more from Lindsey, try Twitter or Facebook.
Have a tip we should know? tips@mediaite.com