On The Road With Mediabistro Founder Laurel Touby: China, Chatroulette And More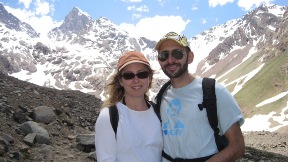 Laurel Touby founded mediabistro.com in 1996, sold it in 2007 (for $23 million) and began her first real vacation in October of last year – a six-month sabbatical around the world.
We caught up with Touby today by phone in Jackson Hole, Wyoming, to find out what she's been up to, her thoughts on Foursquare and Chatroulette, what her plans are next and more.
One note – many here at Mediaite have worked for Touby including Glynnis MacNicol and Rachel Sklar (FishbowlNY.com) and myself (TVNewser.com).
Mediaite: Since you officially left in late September, you've been to Asia, Europe, South America and from the East to the West Coast of the U.S. What have been some of the most memorable experiences for you?
Touby: Probably visiting China. You know, you have a conception of what China is supposed to be like, but actually experiencing it, it's just mind-boggling how hard they're trying to catch up with the rest of the world and how successful they're becoming at doing it. It's incredibly powerful. The vastness of China's cities, Beijing and Shanghai, you just cant conceive of it. With the amount of infrastructure created, I no longer feel confident we're going to be able to stay ahead of them going into the next few decades. Western civilization has to watch out. I never expected that. I thought, 'Oh sure, they have great architecture, they're focused on creating infrastructure,' but I never realized how far ahead they had gotten. It was kind of frightening because of the negligible consideration to the environment there is. It's kind of all-out development, with no thought to repercussions or consequences. That was kind of frightening to me thinking about the state of the world, and the future.
"I'm kind of competitive. Being Mayor of my home was very exciting, whereas Jon is only Speaker of the House."
Mediaite: -You said in your 'exit interview', "Even if I was away from the office or 'on vacation,' I was always doing work constantly…This was my responsibility and I felt very much like it was a child in many ways." How how is been being away from your child?
Touby: Basically I just can't stay away. I've been continuing to answer emails from people in the community, people who have needs, people who need referrals. I'm turning down a lot of student interviews for theses and things like that. When it comes to helping someone connect to the Learn department, to teach a class, if a customer needs to post a job, I find myself continue that role in a way I hadn't expected. I don't feel that far away from it, but I gave the child to a very good adoptive father and Alan [Meckler] has been really careful about keeping the spirit of mediabistro, and he respects it a lot, respects community, and really wants it to thrive. I don't feel as frightened as I might have if someone else was the owner.
Mediaite: How has your media consumption changed during your sabbatical? What are your go-to news-gathering tools?
Touby: I'm embarrassed to say it is still newspapers, the Times and the Journal. Actually, I'm not embarrassed to say that! I haven't had or given myself much time to read stuff online. I've read more books in the last few months than I've read since college. That's the good news. I'm able to get back to book-reading whereas prior I didn't have the concentration for it. Our concentration is so fragmented by Twitter, Facebook, now I've joined Foursquare and Yelp, it's really hard to turn that off and sit down with a book. We have Kindles and have just packed them with books.
>>> NEXT PAGE: Touby on Foursquare, Chatroulette, a future tell-all book and more.
Have a tip we should know? tips@mediaite.com