According to an article pushed by the Ted Cruz campaign Sunday, Marco Rubio casually renounced his Christianity in a roomful of people yesterday.
In a video posted by the University of Pennsylvania student paper The Daily Pennsylvanian, Rubio runs into Ted's father Rafael Cruz and a Cruz staffer while the campaigns were both staying in the same hotel. According to the video's subtitles, they had the following conversation:
RUBIO: Got a good book there.

STAFFER: Yes, sir.

RUBIO: Not many answers in it. (points) Especially in that one.
Watch the video below via Matthew Mizbani's YouTube Channel.
After The Daily Pennsylvanian posted a trolly piece wondering what book it was, the Cruz campaign of course responded by telling them it was the Bible.
Now if the video's transcription is accurate, Rubio randomly went up a Cruz staffer, complimented the Bible ("Got a good book, there" was a statement, not a question), immediately denounced it seconds later in full view of a room of people and his young son, and then casually strolled off. That may strike some as plausible, but only those who are already inclined to believe Rubio is Satan incarnate.
The problem is, listening to the audio, Rubio doesn't say "not many answers in it." It sounds to me like he's saying "all of the answers" are in it. Some say they hear him saying "a lot of answers in it," but it definitely doesn't sound like "not."
According to Rubio spokesman Alex Conant, his boss said "all" of the answers. "How do I know? I'm in the video!!" he tweeted.
This appears to be a a classic example of the McGurk effect, where people who are primed to hear something different can hear the same sounds, but come to different conclusions. Remember when Shaun King thought a White House journalist asked the Pope about "the Negroes"? Or when half the country was convinced a GOP crowd chanted "Ryan" and the other half of the country thought they said "Romney"?
People hear what they're told to hear and what they want to hear. Here's the same video with the subtitles of what the Rubio camp claims he actually said. Even if you heard "not" the first time, you'll hear "all" the second time.
Watch the video below via Larry Simmons's YouTube Channel.
Now, there's no evidence that Cruz's people had anything to do with posting the video, which again, was posted by young students new to journalism. But it didn't take long for Cruz campaign national spokesman Rick Tyler to spread the video on Twitter and Facebook.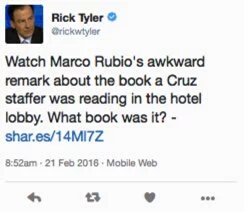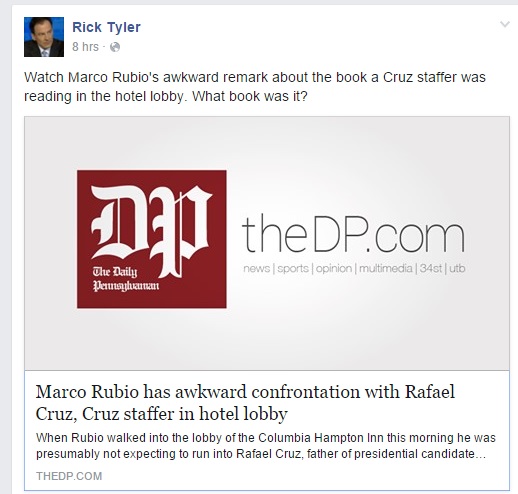 The innocent "What book was it?" line is particularly cute, since the Cruz campaign later made sure to tell The Daily Pennsylvanian exactly book it was, in case people didn't pick up on the smear on their own.
Tyler later deleted the tweet, which Rubio staffers passive-aggressively "thanked" him for while pointing out he hasn't pulled down the Facebook post.
Thank you @rickwtyler for deleting this tweet peddling garbage. Should probably delete FB post as well pic.twitter.com/J4Ga6yXJqs

— Joe Pounder (@PounderFile) February 21, 2016
All of this of course comes after the Cruz campaign put up a campaign website using a badly photoshopped image of Rubio grinning while shaking hands with Barack Obama. Before that, the Cruz campaign pushed untrue rumors that Ben Carson was dropping out of the presidential race during the Iowa caucus, and sent out official-looking mailers telling Iowans they had committed a "voter violation" that could only be rectified by voting for Cruz.
I'd say Cruz campaign should be ashamed, but really they ought to be proud. That they managed to become the most crooked and dishonest campaign in an primary that also features Donald Trump is honestly impressive.
UPDATE (2/22/16): Tyler has apologized for sharing The Daily Pensylvanian article and said that the Cruz staffer in the video has confirmed that Rubio said "all" the answers were in the Bible.
[Image via screengrab]
——
>>Follow Alex Griswold (@HashtagGriswold) on Twitter
This is an opinion piece. The views expressed in this article are those of just the author.