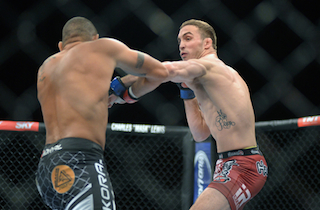 The arrest of New York Assembly Speaker Sheldon Silver on federal corruption charges Thursday morning roiled New York state politics, but it's sparked hope for one unlikely group: MMA fans.
New York is the only state that outlaws mixed-martial arts, and Silver is a major reason why. The UFC has tried six times to get a bill regulating the sport through the state house, only to be repeatedly stifled before reaching a vote.
The politics behind the ban are byzantine. UFC CEO Lorenzo Fertitta also co-owns Station Casinos, a Vegas casino chain, which has been wrapped up in a unionization battle with the Las Vegas Culinary Union. Fertitta believes the union's parent organization Unite HERE is retaliating against him by blocking passage of MMA legislation in New York. The UFC "has more or less been told the price of getting into New York is to bow to the culinary union," per the Wall Street Journal editorial board.
"All of the arguments are in our favor other than the fact there is politics being played," Fertitta said.
Critics object that the sport is barbaric and encourages violence toward women, while the UFC tout its economic benefits, which they claim would bring $40 million to the state.
"The speaker does not personally approve of MMA," a Silver spokesperson said when the sport was again up for consideration in 2013. "But ultimately it is up to the members and there simply has not been enough support in the Democrat conference to bring it to a vote."
Silver surrendered to federal authorities Thursday morning on charges that he used his position to obtain millions of dollars worth of bribes and kickbacks. Within hours of Silver's arrest, Twitter lit up with dozens of calls for the UFC to exploit the opening:
Sheldon silver out.? @danawhite let's get this ball rolling! #UFC

— Chris climenhaga (@huwge23) January 22, 2015
Sheldon Silver arrest means one thing, @ufc in NY!

— Anthony Guzzo (@AFGuzzo) January 22, 2015
Champagne corks popping at UFC headquarters … "@PzFeed: BREAKING NEWS: NY Assembly Speaker Sheldon Silver arrested on corruption charges"

— Brian Martin (@TheBMartin) January 22, 2015
Mediaite has reached out to the UFC for comment and will update accordingly.
[Image via Andre Durao / Shutterstock.com]
——
>> Follow Evan McMurry (@evanmcmurry) on Twitter
Have a tip we should know? tips@mediaite.com