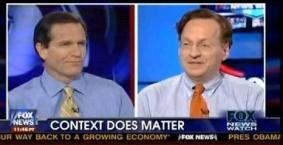 Since we broke down how Fox News' coverage could not have possibly led to Shirley Sherrod's forced resignation, the story of FNC's coverage has remained a hot topic on cable news. Dan Abrams and Rick Sanchez debated it, Howard Dean and Chris Wallace got into it and this weekend's Fox News Watch took on the issue (video below).
Let's take one more look at exactly how FNC covered the story – as well as the rest of cable news.
"The whole thing is a cautionary tale about believing what you see on the internet," said host Jon Scott today, summing up the beliefs of those on the panel but also the beliefs of many over the last week. But although it can be universally agreed that Andrew Breitbart is at fault for, knowingly or not, pushing an enormously out-of-context video clip, some want to put Fox News on the same level as Breitbart and BigGovernment.com. It began with the updated statement from the NAACP – the one after they condemned Sherrod the night before. In it, NAACP President Ben Jealous said the organization was "snookered by Fox News and Tea Party Activist Andrew Breitbart." Both – Fox News, and Breitbart.
But as we've laid out here, there are misconceptions about the way FNC covered the story. The truth is, Shirley Sherrod wasn't mentioned on air until 8:49pmET (according to TV Eyes), during a pre-taped Bill O'Reilly show. It is the fact that it was recorded earlier that makes the timeline more complicated, but what we do know is by the time O'Reilly made it to the air she had already resigned. In fact, before the show was even taped, around 5pmET, she had already resigned (although it hadn't been made public yet).
But O'Reilly called for her resignation at the time, which led to his apology (and new attack) the next night. The person at Fox News who can be legitimately criticized for jumping to conclusions is O'Reilly. The resignation was mentioned in the 9pmET and 10pmET hours as well. Again, though, clearly it was the fear of FNC's coverage and not FNC's actual coverage that forced the USDA, and Obama administration, to act as quickly as it did.
The rest of cable news is in largely the same boat as Fox News. The clip aired on CNN Monday night too – in a report on Anderson Cooper 360 by Joe Johns. In it, Johns described the clip as a "YouTube video" (and no mention of the source), and said it showed Sherrod talking about how she "withheld help to a white farmer." All three cable news networks covered the story on their morning shows without any mention of Sherrod disputing the context. On MSNBC's Morning Joe, guest Margaret Carlson of Bloomberg said, "How about if Shirley and Mark Williams, the tea party guy, are locked in a room together as their punishment" – a reference to the legitimately-ousted conservative.
And by 9amET Tuesday, all three cable news networks – CNN, Fox News and MSNBC – were reporting the story in full context. They were all showing the clip (many times), but also all pointing out that Sherrod was speaking out against it. CNN was helped by having Sherrod on-air during American Morning.
Whether it was luck or by-design, the Obama administration enormously overreacted to a clip put out by Breitbart. On Fox News Watch, Kirsten Powers took him on strongly. "There's something really twisted and sick about that," she said. "Now he says he didn't know that, but I say who gave him this video, they need to come forward and say why they set up this woman in this malicious, nasty accusation."
The knocks on Fox, though, are misplaced. Have they driven the Black Panther story to potentially race-baiting extremes? You could make a case for that. But although it would be convenient to say Fox News' relentless coverage of this internet video led to Shirley Sherrod's unfair ouster, it's just not true.
Here's Fox News Watch today:


—–
» Follow Steve Krakauer on Twitter
Have a tip we should know? tips@mediaite.com