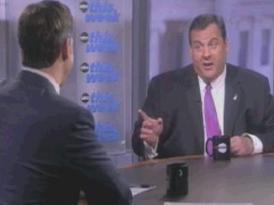 Jake Tapper's run as guest anchor of ABC's This Week came to a close Sunday, with a lively panel and an exclusive interview with New Jersey Gov. Chris Christie.
And while the discussion was wide-ranging, Tapper also asked about Jersey Shore as Snooki was featured in the New York Times.
Tapper asked whether the hugely popular MTV reality show was good or bad for New Jersey. "Negative for New Jersey," said Christie, bluntly. "I mean, because what it does is takes a bunch of New Yorkers, most of the people on Jersey Shore, are New Yorkers…drops them at the Jersey Shore, and tries to make Americans feel like this is New Jersey. I can tell people, they want to know what New Jersey really is? I welcome them to come to New Jersey anytime."
So while the Governor may not be a fan of the pouf – and the stereotypes that can come with it – the New York Times Sunday Style section is. Tapper referenced the Snooki profile by Cathy Horyn, which also includes this great line from her father: "She don't sing. She don't dance. I don't want to say she don't have talent…"
After spending time with Snooki and her father, Horyn concludes "Snooki is much more interesting as a character than she is in any other context." Also:
This still doesn't address Snooki's strange appeal. And part of the problem is that she can't explain it herself. She simply isn't capable of serious introspection. She told me she has read only two books in her life, "Twilight" and "Dear John." When we were in the kitchen at her dad's house, I asked Snooki if she were inspired by any movie actresses. (I have this funny theory that she's a little like Elizabeth Taylor, but more about that in a moment.)

"Movies?" she said thickly. "I really liked Brittany Murphy. Yeah. I looked up to her. She had a dorky personality, like me. It was sad that she died."
This seems somewhat critical of Snooks, but the entire profile is actually a fair look at a phenomenon Horyn and others struggle to understand while remaining fascinated by. Others that don't include Chris Christie apparently.
Here's the This Week exchange:


—–
» Follow Steve Krakauer on Twitter
Have a tip we should know? tips@mediaite.com