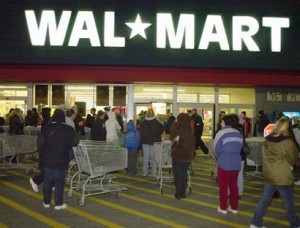 As America's economy continues to suffer meager growth, retailers are doing everything they can to capture consumer dollars as soon as possible.  Despite outcry from both consumers and employees, retailers opened their doors for Black Friday even earlier this year. Wal-Mart™, for example, ran aggressive ad campaigns all last week letting consumers know that Black Friday deals start at 10pm on Thursday.  Toys 'R Us™ began deals even earlier, at 9pm on Thanksgiving.
But are these early opening times just marketing gimmicks, or are we seeing a substantial shift in consumer behavior towards a more commercial Thanksgiving?
To come up with some answers, we examined anonymous online shopping behavior from over 10,000 consumers (primarily users of the ALOT Rewards application, powered by our BargainMatch service to see. These users have downloaded our cash back application(s) in order to get better deals and cash back at over 1,900 top online merchants.  Based on our data, Thanksgiving has indeed become a major online shopping day.
It may not be Black Thursday yet, but it's looking to be at least Golden Brown.
While other reports from comScore and the like have focused on estimates of gross sales, we'll be sharing normalized hourly consumer shopping activity (mainly clicks to merchants, since actual purchase reporting lags a bit).  While estimated gross sales data is interesting at a macro level, the hourly data paints a more colorful picture of exactly how American consumers are behaving online during a family holiday weekend.
What's a Normal Day?
Before we get into what we saw on Thanksgiving and Black Friday, we thought it would be helpful to show you what a "normal" day looks like.  Below is an hourly plot of typical shopping activity.  I know this chart is incredibly boring, but bear with me.
Starting at Midnight ET, we see a significant fall-off in activity as the West coast folks go to sleep.  Next we see a significant ramp up at 10 am ET as people get into work . That increase in traffic peaks at 4 ET and starts to fall off.  We see a slight after-dinner rebound, followed by a significant fall-off as the evening progresses.
Thanksgiving was different.
So What about Thanksgiving?
From an internet traffic standpoint, holidays are usually quite low relative to normal days.  After all, people are spending time with their families, sleeping in, watching parades, etc.  So we expected that Thanksgiving would actually be lower than a normal day.  But it wasn't.
Here's what we saw on Thanksgiving:
You can see that the shopping rush really started Wednesday night – people got off work and started doing their research, visiting stores, and in some cases, making purchases.
As Thanksgiving morning set in, people woke up early and opened up their computers to shop.  Mid-morning, the duties of the holiday set in.
People started eating.  They kept eating / dropping into food comas for about six hours, whereupon the tryptophan worked its way out of their systems, and they got online.
After about 5pm, when online shopping activity should have been dying down, it ramped up.
Black Friday had begun.
So How Big was Black Friday?
comScore estimated that Black Friday represented the biggest online shopping day of the year.  We saw nothing to counter that claim in our data.  It started strong and more or less maintained its momentum. Here's the same chart as the above, with Black Friday traffic included.
The morning was huge, and the increased volume held throughout the day.  There are a couple of interesting spikes here.  First, there's a bump around 4:00am ET.  That's unheard of – no one is up that early…except the doorbuster crowd.  People got online to check deals BEFORE they went out to stores.
There was another afternoon lull as the online shoppers decided to venture out and see what deals could be had offline, but you can see that a group of users ramped up again around 8:00pm ET to shop one last time.  Black Friday ended the day lower than Thanksgiving did.
We'll continue to follow this online shopping behavior for the rest of the holiday season, but we were surprised to see such a ramp on Thanksgiving this year.
What's Next?
Later this week we'll be comparing Cyber Monday to the Black Friday numbers.  Historically Monday's online sales have been larger, as users shop offline over the holiday weekend and online when they get back to work.

Jeremy Chrysler is a Senior Vice President at Inuvo, Inc, an online marketing company which runs www.bargainmatch.com to pay users cash back on their purchases at over 1,900 merchants
Have a tip we should know? tips@mediaite.com