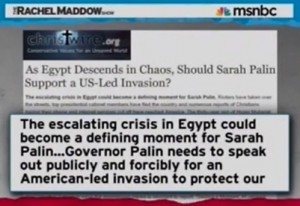 "An American led invasion of North Africa?" This was the question published earlier on a site called ChristWire about potential U.S. foreign policy in Egypt, and later quoted by MSNBC host Rachel Maddow. It came at the end of a segment running down some of the stranger reactions from the opinion side concerning the Egyptian uprising. Alas for Ms. Maddow, it appears that ChristWire is a satirical site that mocks over-the-top rhetoric, a fact that Maddow owned up to earlier today on her MaddowBlog twitter feed.
The saddest part of the original report is not necessarily that Maddow cited a joke website. Its that the joking and over-the-top rhetoric fit perfectly alongside the other hyperbolic examples provided, all of which were true! Yes Maddow's producers erred here in not first fact checking (something with which we have taken issue before) but in this instance, the mistake seemed relatively small since it was just one overblown comment among many. Or maybe the mistake is somehow assuaged by the quick ownership of the gaffe, evidenced by the following tweet: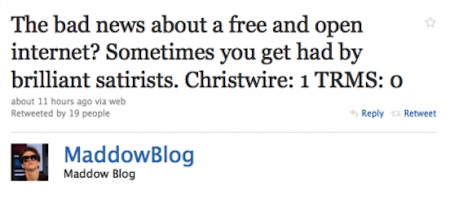 Like any good satirical site, ChristWire has quickly made hay of Maddow's post. Or so we imagine given the title on their home page that reads "What the Liberal Media Can Learn From Rachel Maddow's Christwire Scandal." Alas their site is not currently loading right now, perhaps burdened by suddenly heavy traffic.
Update: Ms. Maddow addressed the gaffe last night, saying: "In a world where China taking over New Zealand is what passes for real analysis on the situation in Egypt, how do we know that's not satire too?" Watch that clip here.
Watch the original segment that includes the gaffe, courtesy of MSNBC:
Have a tip we should know? tips@mediaite.com