Daaa-ad! Mark Zuckerberg's Dentist Dad Is Marketing Himself As The "Father Of Facebook"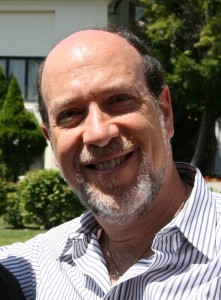 It's not unusual for fathers to be so proud of their children's accomplishments that they end up utterly embarrassing those children to the point that they grind their teeth and ball their hands into fists underneath the too-long sleeves of their signature hoodies. Mark Zuckerberg, founder of Facebook and SNL-cameo-appearance-maker, is not immune from having to deal with a proud papa's well-meaning antics. His father, a Dobbs Ferry, New York-based dentist named Edward J. Zuckerberg, has taken to marketing himself as the "Father of Facebook" …even though he's more like its grandpa, really. You know: Had nothing to do with its birth, but gives it candy and maybe superpokes it in the belly from time to time.
Time was able to get a hold of the letter Papa Zuckerberg has been sending out to new residents of Dobbs Ferry, highlighting his connection to what is probably the most well-known social network of all time (Sorry, Xanga). Here's the relevant portion of his letter. Emphasis is Zuckerberg's own:
Technologically, I am proud to inform you that my office has always been on the cutting edge as early adopters of technology. Indeed, I am literally the Father of Facebook!
Extremely uncomfortable use of "literally" aside, this all seems quite cute. We wonder, however, what Mark – along with sister Randi Zuckerberg, who also works at Facebook, think about their dad drawing attention to their work.
On a related note: Has anyone ever visited Dr. Zuckerberg? Because we are actually in need of a new dentist, and Dobbs Ferry isn't too far. Not surprisingly, his practice has its own Facebook page.
Have a tip we should know? tips@mediaite.com