'Opposite Day' Comes to Fox and MSNBC as Complaints Grow over Unfriendly-Fire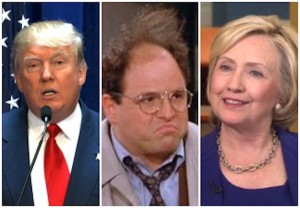 A Top-3 Seinfeld episode of all-time is easily one titled, The Opposite. For those very few of you who haven't seen it, the premise is simple: George is fed up with his lot in life and decides to take Jerry's sage advice on turning it all around:
George: Why did it all turn out like this for me? I had so much promise. I was personable. I was bright. Oh, maybe not academically speaking, but I was perceptive. I always know when someone's uncomfortable at a party. It all became very clear to me sitting out there today, that every decision I've ever made in my entire life has been wrong. My life is the complete opposite of everything I want it to be. Every instinct I have in every aspect of life, be it something to wear, something to eat… It's often wrong.

Jerry: If every instinct you have is wrong, then the opposite would have to be right.
George proceeds to do the opposite in every situation: Orders a different lunch from the daily usual, approaches an attractive women and informs her he's unemployed and lives with his parents, tells George Steinbrenner off during a job interview…and proceeds to get everything he wants: Inner-peace, the girl and a dream job with the Yankees. It's Seinfeld at its very best during the peak of its existence, and an always-stop-and-watch-no-matter-what-you're-doing episode anytime it appears.
Fast forward to 2015, and it's opposite day again, but this time in cable news. This whole scenario began back on the night of August 6th and the GOP presidential debate. Going into the evening, the usual critics of Fox News speculated that it would be a relatively easy night for the ten candidates on stage because the network allegedly goes easy on Republicans. The two hours in Cleveland was going to be a softball tournament with one home run after the other. Those folks who predicted that probably didn't watch Chris Wallace, Bret Baier or Megyn Kelly before that debate very much, as all have proven to be tough in the past regardless of party affiliation of the interviewee. And when the smoke cleared, the reviews were almost unanimous: The questions were exceptionally tough. Nobody was in the tank for anyone. The moderators did a solid job in getting all candidates involved…a tricky task given the big number on stage and time restraints involved. Some–particularly those loyal to Donald Trump–even complained about the questions being too personal and unfair.
You know what happened from there: After the debate, Trump voters go ballistic on Twitter and Facebook and particularly target Kelly, vowing to never watch her show again (ironically, her viewership went up). Trump and Fox go to war twice after the candidate continually attacks Kelly on social media, with the result being Trump sidelined from appearing on the network (or sidelining himself via boycott depending on whom you believe). But lost in all of the drama was the fact that some Republican viewers were angry at Fox for being too tough and/or unfair to its frontrunner.
If you could see that coming on August 5th, you might want to book the next flight to Vegas post-haste.
Things are going just the opposite way at MSNBC and particularly its flagship program, Morning Joe. If you've watched over the past few months, you'll see–as noted here before–that the show has an energy and attitude it hasn't displayed in a long time, and the rollercoaster 2016 race is largely the straw that's stirring the drink. But what's taking some by surprise–especially those in the Democratic bubble–is how tough the Morning Joe cast has been on Hillary Clinton.
Of course, you would expect that out of Joe Scarborough, a former GOP congressman and the Republican face of the network in general. But Mika Brzezinski is the real surprise here, as she's gone against character and called the Hillary email and Foundation controversies for what they are despite her open political affiliation. Here's an example of transparency and candor about inner-conflict below that you just don't hear very often from this past June:
"I'll speak personally. I grew up in a family where I saw how a lot of this works from the inside." (Brzezinski is the daughter of former White House official Zbigniew Brzezinski). "I know how ethics and rules and protocol must be followed, like, to the "T", down to $50 gifts, and so I think I'm kind of flummoxed by it. I want to see the first woman President of the United States in my lifetime. I would like to see a Democrat win the next election. I'm going to be transparent. I would like to see her be able to answer the questions (around the Clinton Foundation); and for there to be a good answer. But I'm not going to pretend the questions don't exist."
Mika, Joe, Mike Barnacle, and the Bloomberg-Game Change team of Mark Halperin and John Heilemann would go on to slam Mrs. Clinton for months on an almost-daily basis for both the email scandal and the utterly inept way she's handled it (even the President thinks she could have done better regarding the latter). There were very few times Clinton was defended in any capacity (outside of Media Matters' David Brock), and a campaign surrogate here and there (Hillary refuses to go on the show). But to some, it is still impossible to compute that all of this scathing criticism was happening on MSNBC.
"I've been listening to you guys this morning, and I think some of it has been unfair and not balanced," Hillary supporter and Democratic Senator Claire McCaskill said on the show recently, apparently not realizing the irony with the end of that statement, later adding: "I just wish we could have the same kind of time talking about some of the distortions and the pretzel-like behavior of the some of the candidates in the Republican primary that you guys spend on Hillary. It's ridiculous."
Again, ignore the political aspect of this and embrace the bigger media picture: A Democratic Senator and Clinton surrogate is openly complaining on MSNBC that the tone of its coverage of a Democratic frontrunner is too mean while Republicans are off the hook. Again, if you could see this kind of protest coming before this election season began, there's a lottery ticket waiting to be bought with your numbers on it.
Opposite Day is opposite season in cable news: Fox is accused of using sharp elbows against the Republican frontrunner; MSNBC's flagship program is unfair and unbalanced to the Democratic one. And in the process, the product presented is more unpredictable, more compelling.
We'll just end matters here with George's epiphany and finding his new religion.
George: I tell you this, something is happening in my life. I did this opposite thing last night. Up was down, black was white, good was –

Jerry: Bad.

George: Day was –

Elaine: Night.

George: Yes!

Jerry: So you just did the opposite of everything?

George: Yes. And listen to this, listen to this; her uncle works for the Yankees and he's gonna get me a job interview. A front office kind of thing. Assistant to the travelling secretary. A job with the New York Yankees! This has been the dream of my life ever since I was a child, and it's all happening because I'm completely ignoring every urge towards common sense and good judgment I've ever had. This is no longer just some crazy notion. Jerry, this is my religion.

Jerry: So I guess your Messiah…would be the Anti-Christ.
Seinfeld…it can be applied to every situation in life.
Even in the upside-down world of cable news.
— —
Follow Joe Concha on Twitter @JoeConchaTV
Have a tip we should know? tips@mediaite.com