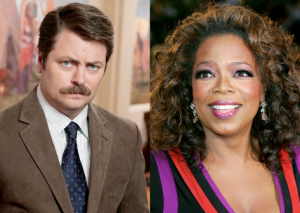 Now that Oprah Winfrey is no longer hosting her popular syndicated program, many TV viewers are waiting to see what her next on-screen project will be. Well, if actor Nick Offerman gets his way, she may be headed to the fictional town of Pawnee, Indiana.
Offerman, who plays Ron Swanson on the hit NBC comedy "Parks and Recreation", wants the popular media figure guest starring as his character's first ex-wife, "Tammy One." For the past two seasons, viewers have only seen Swanson interact with "Tammy Two," played by Offerman's real-life wife Megan Mullally.
On the May 19th season finale, "Li'l Sebastian," after getting his signature mustache burnt off accidentally, Swanson is confronted by Mullally's Tammy, who tries to lure him back into a relationship. She comes across as very domineering and intimidating, but when she finds out that Ron's first ex-wife is nearby, she panics and runs away. One of the episode's big cliffhangers was why Tammy Two fears Tammy One so much. The first Tammy only got a few seconds of screen time, but her face was never revealed, so her identity is being kept a secret for now.
In an interview with The Huffington Post, Offerman said he wanted someone who could be convincingly intimidating to play the part, and Oprah would be ideal for that role.
I think Oprah would be the only, she's the only person we can think of that might be intimidating to Megan Mullally. It would be so good.
Offerman says he's trying to start an online campaign to get the media mogul to appear on "Parks & Recreation" next season. The Facebook page "Oprah as Tammy Swanson on Parks and Rec" has, as of this typing, only 63 likes.
According to Offerman, the writers have a lot of ideas buzzing around, and Oprah is being considered, but he jokes, "I can assure you if it's not Oprah, I will quit." He continued, more seriously, by complimenting the show's writers:
I can assure you, if it's not Oprah, whoever it will be, they will probably do something clever… There are a lot of very obvious choices and attributes that they set up for themselves, and my knowledge of these guys is it's something we won't see coming, is my guess.
"Parks" has been hailed as one of the funniest comedies on television. EW Magazine published a cover story in February titled "The 101 Reasons We Love 'Parks and Recreation.'" So even if Oprah can't be replaced in daytime, she might be able to build a strong presence in primetime as Tammy Swanson 1.0.
Have a tip we should know? tips@mediaite.com
Josh Feldman - Senior Editor