O'Reilly Factor's Jesse Watters Hijacks NYC Mayor's Presser, Gets Booted Out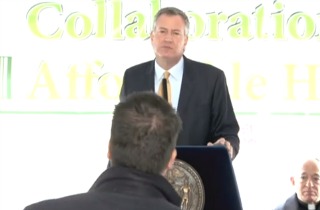 Jesse Watters, Bill O'Reilly's ambush man, struck again today at a press conference for New York City Mayor Bill de Blasio. Watters wanted to know why de Blasio's office has refused to respond to their requests for interviews.
Watters started off by asking de Blasio if he was familiar with his "Watters World' segment. When de Blasio said no, Watters gave his standard bro line he gives in every single one of those segments: "I'm Watters, and this is my world right here."
He said that not only have de Blasio's people not responded to interview requests, but they haven't been respectful. De Blasio doubted that was true and tried to move on. But Watters would not let de Blasio move on to something of actual substance, repeatedly badgering him as he called on another reporter.
When Watters said, "You need rescuing," de Blasio shot back, "I don't need rescuing, I just want a real question."
Oh, and regarding Watters saying the mayor's staff never responded to their interview requests, the mayor's staff offered evidence to the contrary:
Total stunt. We've been kind enough to decline their intvw requests via phone AND email.

— Marti Adams (@Marti_Adams) December 11, 2014
Proof. RT @Marti_Adams Total stunt. We've been kind enough to decline their intvw requests via phone AND email. pic.twitter.com/hgouL0HxT6

— Monica Klein (@MonicaCKlein) December 11, 2014
And one de Blasio spokesperson couldn't help but take a shot at O'Reilly over the stunt:
I thot @BilldeBlasio handled that stunt pretty well. Im sure @oreillyfactor was hoping for this kinda react: https://t.co/9AntjJ8kpC

— Phil Walzak (@PTWalzak) December 11, 2014
Watch the video below:
[h/t CNN]
[image via screengrab]
— —
Follow Josh Feldman on Twitter: @feldmaniac
Have a tip we should know? tips@mediaite.com
Josh Feldman - Senior Editor