O'Reilly Imitates Baltimore Protesters, Chinese People, and James Carville in Stand-Up Set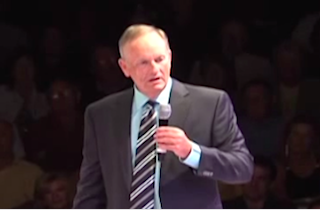 Brian Williams isn't the only factually-challenged media figure who would rather be doing comedy than delivering the news. Bill O'Reilly is currently in the midst of a national stand-up tour along with conservative comedian Dennis Miller that played to a sold-out audience in Westbury, New York Saturday night.
While video of the "Don't Be a Pinhead" tour is hard to come by, CNN Money's Tom Kludt was there to experience it in all its glory and has shared some highlights, including the various voices and impressions the Fox News host reportedly embodies in his act.
For instance, O'Reilly got topical with his take on the Baltimore protesters:
"'We need jobs. We need jobs down here. We need jobs,'" he said in an unusual intonation that made him difficult to understand.

"OK, great. Let's burn the CVS down. That'll help out," O'Reilly continued, reverting back to his normal voice. "Let's force the baseball team out of town. That did a lot of good for all the vendors."
And employed a Chinese accent to mock Hillary Clinton:
The joke's setup: The Chinese sent 2,000 pantsuits to the Clinton Foundation, which has been the subject of recent criticism over its foreign donations. To escape scrutiny, O'Reilly explained, the foundation sent the former secretary of state's preferred attire back to Beijing.

He brought the joke home with yet another impersonation.

"We don't want them back,'" O'Reilly said, Chinese accent and all. "'They don't fit anyone here in this country.'"
And then there was his take on James Carville:
"'Mr. President, where are yooou?'" O'Reilly said during a live performance on Saturday night. His voice mimicked the Cajun accent of the famed Democratic operative. "'We're dyin' down here-uh. But you're up there! You need to get down here-uh!'"
He even made a fat joke about Gov. Chris Christie (R-NJ):
When he discussed President Obama's embrace of New Jersey Governor Chris Christie after Superstorm Sandy, O'Reilly quipped: "You may not have seen the president because he was behind the governor."
Kludt reported that Miller fared well with the crowd as well, telling jokes about Al Gore, Nancy Pelosi and other Democrats. But one punchline about Bill Cosby passing out water at a marathon apparently drew groans. "See, by him passing out the water he would have rohypnol in it," Miller was forced to explain.
Watch a promo for the tour below, via YouTube:
[h/t TPM]
[Photo via screengrab]
— —
>> Follow Matt Wilstein (@TheMattWilstein) on Twitter
Have a tip we should know? tips@mediaite.com