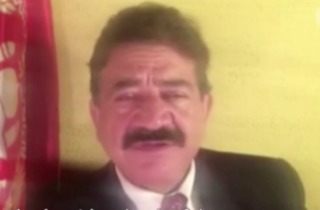 Despite condemning his son's actions and claiming not to know what motivated him, the father of Orlando shooter Omar Mateen appears to have suggested that it is God's right to decide the consequences that gay people should face for their sexual orientation.
Seddique Mateen has been a subject of intense media scrutiny ever since his son was identified as the one responsible for a terror attack on a gay nightclub in Orlando early yesterday. The elder Mateen has insisted that his son was motivated by homophobia and not religion (despite reports that the son dedicated himself to ISIS), and he posted a new video indicating that perhaps some of those viewpoints were shared by the father as well.
The video has already been deleted from Facebook, but a recovered version shows Mateen saying he's shocked by the violence and had no idea where it came from within his son. While multiple outlets all have slight differences in their translations of Mateen's video, the general consensus is that he seems to say that homosexual behavior will be subject to divine punishment.
"God will punish those involved in homosexuality," Mateen says. "This is not the issue for a follower of God and he who did this has greatly saddened me."
Mateen is a supporter of Taliban's division in his native Afghanistan, and he has hosted a show on Youtube where he spouted anti-American views. CBS noted that he still holds great interest in Afghani politics and that he constantly tries to involve himself with it.
Watch above, via The Guardian.
[Image via screengrab]
— —
>> Follow Ken Meyer (@KenMeyer91) on Twitter
Have a tip we should know? tips@mediaite.com