OU Frat Mom Who Claimed Ignorance of SAE Racism Videotaped Chanting the N-Word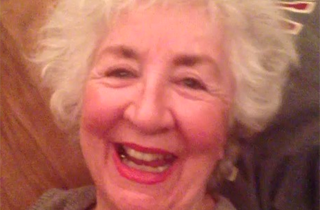 Yesterday, Don Lemon noted that there was no way that the frat boys of SAE, who were kicked out of the University of Oklahoma after a video of them singing a song about lynching went viral, became casually racist on their own. "A lot of them probably learned [that behavior] at home," he said. And, apparently, from their frat mom, too.
The fraternity's 79-year-old house mother, Beauton Gilbow, told Oklahoma's News9 that she'd never heard the song, with the lyrics "There will never be a nigger at SAE," before the video went viral.
"I don't know what I'm doing. I mean, I'm in shock," she told a reporter on the day that the fraternity was booted from their house.
""Did you ever get any indication there was anything like this going on?" they asked.
"No, no, no. Never heard the song," she said.
And then student newspaper The Oklahoma Daily dug up a 2013 Vine featuring Gilbow, in which she repeatedly chanted the word "nigger", to the tune of Trinidad James' "All Gold Everything."
New York Daily News confirmed Gilbow's identity by comparing the Vine to a GoFundMe page raising money for Gilbow, who became unemployed due to the frat's sudden closure. The GoFundMe page disappeared soon after the video emerged.
Watch Gilbow's denial below via News9:
News9.com – Oklahoma City, OK – News, Weather, Video and Sports |
And here's the Vine in question, saved for posterity:

UPDATE (4:35 p.m.) Gilbow released the following statement via News9:
"I have been made aware that a video of me that is circulating on social media and in the news. I am heartbroken by the portrayal that I am in some way racist. I have friends of all race and do not tolerate any form of discrimination in my life. I was singing along to a Trinidad song but completely understand how the video must appear in the context of the events that occurred this week."
[NYDN]
[Image via screenshot]
—
>> Follow Tina Nguyen (@Tina_Nguyen) on Twitter
Have a tip we should know? tips@mediaite.com