Ousted Trump Virginia Campaign Chair Warns GOP: Get 'Behind Trump in a Real Big Way' or Lose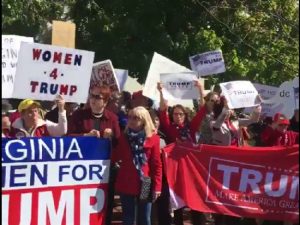 Corey Stewart, the chairman of Donald Trump's campaign in Virginia who was fired for organizing a protest outside RNC headquarters Monday, believes that establishment republicans who think they can reassert control of the party after a Trump loss are sorely mistaken.
In an interview with Michael Steele and Rick Ungar on SiriusXM Tuesday, Stewart seemed to articulate a belief that the party belongs to Donald Trump for the forseeable future, win or lose.
"If the Republican establishment thinks that if Trump loses that they're going to take back control of the party and everything is going to be fine for them, I think they're in for a rude awakening," Stewart said. He added, "I gotta tell you, there's going to be such a huge effort in 2017 first and then in 2018 to remove these republicans who most of the grassroots now see as traitors."
Stewart was fired by the Trump campaign for organizing the RNC protest, which featured many crass signs that made reference to the recently released tape of Trump making lewd comments in 2005.
"(P)eople are, I don't want to say feeling defeated, but they're entering – the despair, I think that people kind of see a defeat coming. And then finally there's just a real sense of anger."
Stewart also blamed his ouster on Trump campaign deputy chair David Bossie. Stewart claimed that Bossie is an ally of Ed Gillespie, a republican strategist who plans to oppose Stewart in the Virginia gubernatorial primary next year.
"The problem with Bossie is that Bossie is Ed Gillespie's friend. And Ed Gillespie and I of course are going to be locked horns in battle next year in the republican primary for governor. So, there was some personal stuff going on."
Check out the full interview here, via the Steele & Ungar show, which airs weeknights 6:00-9:00 p.m. ET on SiriusXM channel 124.
[image via screengrab]
–
Follow Joe DePaolo (@joe_depaolo) on Twitter
Have a tip we should know? tips@mediaite.com
Joe DePaolo - Senior Editor