Out Of Character Sighting! Stephen Colbert Discusses Thomas Jefferson On Studio 360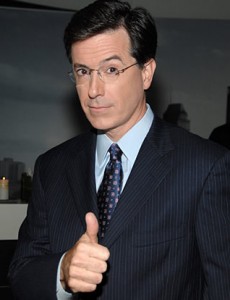 Getting to see Stephen Colbert our of character is one of the rarest events in our media landscape today. To catch it, one has to be incredibly dedicated, patient, and observant (Or, you know, just go to a live taping of the Report and enjoy the audience Q&A beforehand. However, those tickets are on like a bazillion year waiting list so still rare). Heck, half of the anchors discussing the travesty that was Colbert speaking to Congress in character missed the brief, brilliant moment where he didn't. So for everyone not dedicated enough to catch the latest sighting, or for those of you who just weren't listening to WNYC at the right time, here's Colbert out of character on Studio 360 with Kurt Anderson.
The appearance came during part of the show's American Icons series, this one on Thomas Jefferson's beautiful Virginia home Monticello. As Anderson tours the estate, he discusses different aspects of Jefferson's life and how they relate to parts of the home he built. Of course, when the show gets to the gardens, it's time to look at the touchy subject of Jefferson's slaves and the alleged relationship with Sally Hemings. It is here that Colbert (the man, not the character) is interviewed, calling the relationship the only proof we have that one of our Founders may have been a bit of "a jerk."
From Studio 360:
COLBERT: I don't think there's anything sort of sacred about his relationship with Sally Hemings, it still seems like an abusive power relationship, especially when he talks so much about power relationships in what he wrote about, whether it was about power of the state to the church, or one state to another state or the government over man.
KA IN TAPE: The thing about Sally Hemings as well, is that she was his late wife's half sister.
COLBERT: What?
KA IN TAPE: Yes!
COLBERT: Oh, so it runs in the family? Because his wife's father also had sex with the slaves.
KA IN TAPE: Correct.
COLBERT: Wow. Oh that's very interesting. Well, that's almost a sweet story then.
KA IN TAPE: There you go.
COLBERT: You've really opened my eyes to how a master having sex with a slave really can be a very lovely story.
KA IN TAPE: It's much more complicated than you think.
COLBERT: Thank-you. Uh-huh.
Sure, it's not much but, when a guy won't even break character at the Olympics, you have to take what you can get.
Check out the clip below. Of course, if hearing a famous comedian drop his act for 30 seconds isn't enough to get you excited, you might as well listen to the whole fascinating episode (below that). I mean, you've got plenty of time while you're waiting to finally get those Report tickets.
Have a tip we should know? tips@mediaite.com