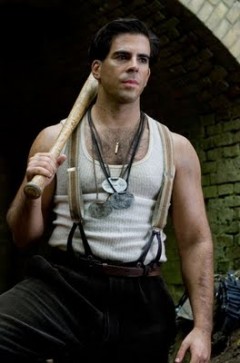 There's nothing like the Oscars to bring out the movie buff in us all — and there's nothing like these Oscars to make the Jews go crazy claiming them. Jews have always been always been all over Hollywood (see An Empire of Their Own by Neal Gabler, or, if you wish, see that nice boychik Steven Spielberg) but this year they're all over the Oscars — in the form of A Serious Man's serious man, An Education's charming cad, and of course those glorious, Hitler-smiting Inglourious Basterds (plus no doubt an assortment of screenwriters, script doctors and agents). As any Jew who isn't sticky about that whole maternal-side thing will tell you, that's plenty Jewish enough. So! The Jewish Oscars! Let the davening begin!
Heeb has more than begun it with its gorgeous tour-de force, their The 100 Greatest Jewish Movie Moments which will thrill any movie-loving Semite who gets a charge out of yelling "That one's ours!" at any given moment (note: It's also a trait that's shared by Canadians). They've really outdone themselves here though, with moments from movies old and new, classics like Gentlemen's Agreement, The Wizard of Oz (no, not the Munchkins) and Soylent Green (Soylent Green is…kosher?) plus new classics like Knocked Up, You Don't Mess With The Zohan and Harold & Kumar Escape from Guantanamo Bay.
And more, of course — the list is a delight to go through, and now I have a long slate of movies to watch during Pesach. Some notable absences though: Where was Ben Stiller's hot shiksa-loving Rabbi in Keeping The Faith? Where was Neil Diamond's swinging cantor in The Jazz Singer? (Yes yes with the olden-timey version, but come on.) Where, for the love of Streisand, was YENTL? (The first time I saw a naked tuchas on screen, never you mind. Mandy Patinkin. Hello, gorgeous!). These are just quibbles, like so many Talmudic arguments between Rabbis Akiba and Hillel; it's still a great list, and worth going through, even just to remember some of these movies and what made them great. Nice job, Heeb.
[#100] [#99 – 90] [#89 – 80] [#79 – 70] [#69 – 60] [#59 – 50] [#49 – 40] [#39 – 30] [#29 – 20] [#19 – 11] [#10 – 1]
The 100 Greatest Jewish Movie Moments [Heeb]
Jews on the Red Carpet [NY Observer]
Happy New Year From The Bear Jew [Mediaite]
Why Inglourious Basterds Could Win Best Picture [The Daily Beast]
Horror Chick: I Can't Stand Eli Roth [The Awl]
Have a tip we should know? [email protected]