Palin Defends McCain from Censure: Undermining 'Efforts to Uncover the Obama Agenda'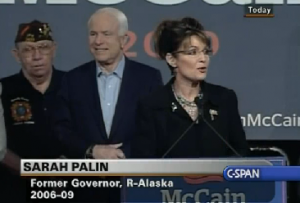 Ever since the 2008 presidential campaign came to a swift end, it's been pretty well-established that Sarah Palin is much more of a true-blue conservative than John McCain is, but despite their differences, Palin's still willing to stand up for her former running mate, and did just that Monday after McCain was censured by the Arizona Republican Party for being too liberal on a number of issues.
Palin has allied herself prominently with the tea party in recent years, and very recently McCain had some strong words for the tea party members of Congress who fought Obamacare so hard a government shutdown ensued. But McCain and Palin have kept things respectful when talking about each other directly, so Palin took to Facebook to defend her former running mate against the state censure.
It goes without saying we don't all agree on all political issues… [but] during this time of dangerous lawlessness in the executive branch, those who agree on stopping the intended transformation of our country had better unite to fight. So at this time, it's perplexing to see Senator McCain's good efforts to uncover the Obama agenda being ignored and perhaps even hindered now by those wanting to censure the Arizona Senator.
Palin takes significant note of McCain's military service, singling out his commitment to national security and fighting for answers on Benghazi. She also addresses her personal relationship to McCain, cementing her loyalty, a quality she says is "pretty much nonexistent" in politics these days.
For his part, McCain responded to the censure on Monday, dismissing it and saying, "If anything, it fires me up."
[h/t WaPo]
Have a tip we should know? tips@mediaite.com
Josh Feldman - Senior Editor