Palin: Where Was This Sudden GOP Outrage About Liberal Media 'Wolves' in 2008?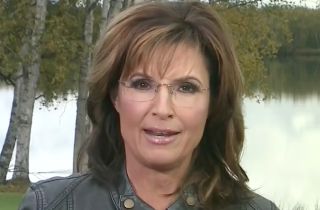 Sarah Palin said on Facebook today she'd like to know where all the Republican outrage about engaging with the biased liberal media was back in 2008.
The former VP candidate posted on Facebook today and said, "Finally it occurs to folks this idiotic practice of 'throwing GOP candidates to the wolves'? Yeah. I've been there. I'm beyond crying you a river."
Palin said she doesn't "remember all this GOP outrage and the establishment's conscience leading to rescue attempts at THAT time," and said that back during that campaign seven years ago the Republican "machine" tried to get her to do lots of interviews with liberal media outlets, which she says were "always edited to fit the liberal reporters' narrative."
She indirectly calls out campaign consultants she says are still "suckering" candidates into hiring them, and in a post yesterday more directly called out the Republican establishment for not doing enough:
GOP Establishment- you need to cure your shrinkage away from holding the left accountable. Obviously leftist lapdogs in the media lie about conservatives. You too often cowardly refuse to defend the mainstream media's target, choosing instead to slyly witness the conservative's record and reputation get pummeled. C'mon, GOP leaders. YOU MUST DO BETTER. We've got our hands full with things like the destructive, burgeoning $18 trillion U.S. debt receiving nary a yawn from old and new Republican machine operators.
Palin is, of course, referring to the huge overnight outrage about the CNBC debate and the complaints by the RNC about how unfair it was.
[image via screengrab]
— —
Follow Josh Feldman on Twitter: @feldmaniac
Have a tip we should know? tips@mediaite.com
Josh Feldman - Senior Editor