Pandas On A Plane! Internet Falls For China Airlines Hoax Of Bear Riding Business Class
A strangely real-looking photograph of a panda bear seated next to a man on an airplane was widely circulated over the Interwebs this weekend. Thousands upon thousands of people shared the picture, mostly expressing shock that a panda bear could possibly ride in business class on a friggin' international flight headed from China to the United States.
But as it turns out, The Daily Mail kills everyone's fun and reveals that the panda bear is (unfortunately) not real.
"When you look at this photo you might assume that you're seeing a man on an airplane seated beside a big plush panda. But guess what, that's not a toy. That's a real live panda cub and he's flying first class," wrote viral-meme-sharing website Geyser of Awesome on Saturday.
Have a look: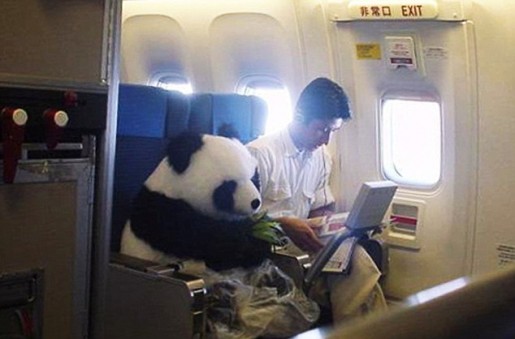 The "press release" that accompanies the picture reads like the truth: "China Airlines is a proud corporate sponsor of the panda sanctuary at Chengdu and was happy to help out recently with the transfer of a young panda cub to a zoo in the United States of America."
It continues: "After extensive consultation with the Sanctuary's veterinary staff it was concluded that the importance of the panda cub precluded it from traveling in the hold of the aircraft, where attending to its needs would be difficult. Thus China Airlines agreed to donate seats in its Business Traveler First cabin for the panda cub named Squee Squee and his carer, Fu Jiang Lang, seen here sitting in the window seat."
And so much of the Internet believed that Squee Squee was just some "real live" panda chillin' with his leaves, while his handler is seated next to him, totally thinking, "Oh, yeah, I've got a panda with me here. Whatever."
But, alas, if one were actually to read the final paragraph of the "press release," you'd see this is clearly a clever (but kind of corny) Chinese prank:
"In the interests of hygiene Squee Squee wore a plastic nappy to take care of pandapoop during the flight. We are happy to report that Squee Squee arrived rested and relaxed after his 14-hour flight, and is settling into his new home well. During the flight we can report that he didn't watch any of the flight movies as we couldn't find a headset big enough for him. He did order the bamboo from catering menu, with a side of bamboo, and bamboo mousse for desert."
Sorry, Internet. If the fact that, by the looks of this picture, "business class" on an international flight means sitting in a grungy, shell-less economy-class seat didn't prove this to be a joke… then the words "plastic nappy" and "pandapoop" should have done the trick.
[h/t Daily Mail]
— —
>> Follow Andrew Kirell (@AndrewKirell) on Twitter
Have a tip we should know? tips@mediaite.com