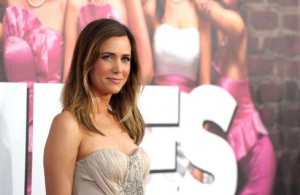 Who: Kristen Wiig, Paul Feig, moderated by Melena Ryzik
What: New York Times Arts & Leisure Weekend
Where: The Times Center
When: January 8, 2012
Thumbs: Up
Kristen Wiig and Paul Feig say they've been surprised at how last year's comedy hit Bridesmaids has been received by some critics. They are pleased by the overall reception of their film, but wonder why so many people wrongly called it a "female comedy," when it's "a comedy with women in it," as Wiig characterized it. No matter, the film, which is now getting some Oscar buzz, may have paved the way for similar projects to get greenlit in the future.
As a result of the movie's success, fans can't help but wonder whether a sequel is in the works. Wiig doesn't seem too keen on it, saying that "Annie [Mumolo] and I are writing a different thing now." What made Bridesmaids so remarkable, many have said, is how natural the relationships and jokes felt for the audience. Feig credited Wiig for her acting ability, saying that creating good comedy requires "lightning in a bottle" moments that Wiig can sometimes pull off on the first take.
But that doesn't mean that the movie came together so quickly and effortlessly. Actually, there were entire sections that producer Judd Apatow encouraged them to rewrite or even to cut – for example, the original script had the gang enjoying the nightlife in Las Vegas, but producers felt that The Hangover had covered that ground already.
Wiig reflected on how perfect Melissa McCarthy was from the beginning of the project, emerging as a standout. Wiig said that many women are uncomfortable in their own skin, and here was a character, Megan, who didn't care whatsoever about how others felt about her. It sounded as though Wiig herself was inspired by that strong and memorable character.
The filming of this movie clearly meant a lot to both Wiig and Feig personally, and they've stayed in touch since. From their chemistry on stage together, it's obvious why the movie turned out so well and why it was such a hit with audiences, near and far.
What They Said
"We never really saw it as a wedding movie or a raunchy comedy…we just saw it as a friendship movie."
– Kristen Wiig says that Bridesmaids defies labels

"In comedy you just have to go for it because if you don't have it, it just doesn't exist."
– Paul Feig explains why directors do so many takes
"I like your sweater."
– Kristen Wiig greeted a young female attendee at the microphone stand with pleasantries
"It was a very pleasant shoot. My own biggest worry was screwing it up for everybody."
– Paul Feig discusses working with such a talented group of people on Bridesmaids

"TV is really where women get to be equals, and movies just got out of hand for a while."
– Paul Feig hopes that women will be awarded their deserving place in Hollywood
What We Thought
Moderator Melena Ryzik did a great job posing brief and focused questions that pushed the others to get thoughtful about their work. With comedy, there's occasionally some hesitance to speak analytically about the material. Ryzik opened up the doors to an engaging discussion that was revealing and, in turn, entertaining. Feig and Wiig proved that you need a serious framework to allow for the funny parts to come through.
The trio brought glasses of wine on stage with them, something we've never seen before. For this panel, it set the right tone for the evening. We'd like to see others have a good time from the get go.
PANEL RULES!
Some audience behavior seems to repeat itself panel after panel. We'll be updating a running list of "PANEL RULES!" that will help ensure that you are not the dweeb of the Panel Nerds.
Panel Nerds don't like…Repetition
Audiences tend to be intrigued by the same topics and interests and areas of study, we've found. When it comes to comedy, no topic enthralls people more than the balance between improvisational comedy and scripted comedy on a movie set. It's fine to wonder about these things, and even to ask about them. But once the question is exhausted – and answered – there's no good reason to keep bringing it up again and again. We counted no fewer than three different questions that touched on this theme – even after Wiig and Feig spent time during the panel preemptively crossing this topic off of the list for onlookers. We'd have liked that time to have been used to talk about something else we hadn't yet heard about.
Have a tip we should know? tips@mediaite.com