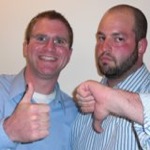 Who: Bajah, Chuck D, Steve Stoute, Ahmir "?uestlove" Thompson, Richard Nichols, moderated by Christopher John Farley
What: The Wall Street Journal's Summer Scoops Live "Planet Hip Hop"
Where: Stanley H. Kaplan Penthouse at Lincoln Center
When: August 4, 2009
Thumbs: Up!
We aren't surprised that the WSJ wanted to bring together a panel to discuss how new media trends, sites and opportunities have changed the conditions and output of an established industry. What surprised us was that Chuck D, the Public Enemy rapper, was the spokesperson speaking on behalf of the way things once were.
Chuck D, speaking almost entirely in sports terminology and metaphors, stressed the importance of today's musicians to research and inquire about the artists that came before them. A hip-hop visionary, he disapproves of today's artists who have "sold out" and don't write and perform for the sake of developing good music. He stressed, time and time again, the importance of fundamentals.
?uestlove and his band, The Roots were repeatedly singled out by Chuck D as the premier example of a band that is getting it right in hip-hop. ?uestlove was joined by Richard Nichols, The Roots manager, who, though silent in the opening of the discussion, stole the show once he chimed in. Bajah, who was slightly lost in the shuffle, was an international example of someone who knows his fundamentals. Positivity and peace was his mantra for the night, as it is with his persona and music.
In that sense, Bajah was representative of another theme of the night: authenticity. All the panelists agreed that central to an artist's success is his honesty and transparency. Steve Stoute, who has made his living selling artist sponsored products, applied this principle beyond music and into the business world. Stoute spoke about connecting the artists to opportunities that fit within that person's story and to brands that are consistent with who the musician is.
To the audience's delight, the conversation shifted to discussing the past 30 years in American hip-hop. It was to ?uestlove's delight as well, as he insisted that he skip showing off his deejay skills in the name of having another 15 minutes of discussion with the panel. We could have listened for longer than that.
What They Said
"It sold 10 million copies but what's remarkable is that it sold 14 millions pairs of glasses."
– Steve Stoute talking about Men In Black's soundtrack. He quickly began using hip-hop artists' names to sell more than just their albums.
"I think hip-hop has a problem because black people aren't dangerous anymore. I mean, how dangerous can Fitty [Cent] be if he's arguing with Evanescence?"
– Richard Nichols' theory about why some have claimed that hip-hop has seen its best days.
"Is it a relic? Is it dead? Yes. I'm operating with smoke and mirrors. I still think its 1996, but until you realize it's 2009… [I'm going to continue.]"
– ?uestlove agreed with Ronnie Nichols' that the term "hip-hop" no longer has any meaning.
"After 1989 everyone thought they could do it one way or another… maybe dilution was the loss of radicalism."
– Chuck D reflecting on the early days of hip-hop.
"A lot of people don't know what's going on in Africa, and we have a voice, so we have to spread the word."
– Bajah, a native of Sierra Leone, believes that music has the power to educate and to heal.
What We Thought
• ?uestlove raised a fascinating connection. He pointed out that all of his favorite influential rappers refrained from putting out albums during the Bush administration. He thinks they saw the negative reaction Natalie Maines of the Dixie Chicks received for voicing her opinions and that other artists then chose to remain silent about their opposition and anger.
• We were impressed by Farley's poise and patience as the moderator. While Chuck D ranted about people from Westchester who rap about coming from the streets, Farley interjected that he's from Westchester. He rose to the occasion as the straight man to the panel's jokes and criticisms.
• Bajah's message of positivity and peace is strikingly different in tone from "gangsta rap" (a term Chuck D abhors,) but it seems to us that it's similar in its spirit of radicalism and reaction. Bajah reacted to war, though, not racial disparity.
• Richard Nichols argued that asking "what happened to rap's importance?" was the wrong question. The progressive period of rap, he said, was an aberration, and not representative of the totality of rap's history.
PANEL RULES!
Some audience behavior seems to repeat itself panel after panel. We'll be updating a running list of "PANEL RULES!" that will help ensure that you are not the dweeb of the Panel Nerds.
Panel Nerds don't like…DJ Casper Followers
"Everybody Clap Your Hands" is good sometimes, but mid-sentence is not necessarily one of those times. Midway through this panel, someone made a cogent point that led to a handful of people to start clapping. From that point forward, every time a panelist said something that audience members approved of, a faint clap ensued. Awk-ward. Save up your claps. You'll know when they belong. (No matter what Akon says.)
Panel Nerds Extra! Watch a clip from the panel here.
Panel Nerds Etan Bednarsh and Danny Groner are New York-based writers and avid panel-goers. Want them at your panel? Email them here:  PanelNerds@mediaite.com
Have a tip we should know? tips@mediaite.com