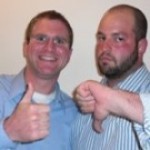 Who: Matisyahu, interviewed by Thane Rosenbaum
What: "An Evening with Matisyahu"
Where: 92nd St. Y
When: March 16, 2010
Thumbs: Up


From the outset, it was clear that Matisyahu wasn't interested in having a regular, old lecture. He casually made remarks to the audience and production team, and singled out his manager and musicians for their hard work. For both the conversation and music segments of the evening, Matisyahu comfortably carried himself as if he was on stage for an episode of "VH1 Storytellers" and not a religious discussion at the local Y.
But that's clearly his appeal as a musician and as a person. It was evident that Matisyahu's faith — while essential to his character — remains personal to the singer. He chose instead to largely speak about how meaningful his music is to him and how it has the ability to cross cultural lines and divides. If you wanted Matisyahu to pontificate about the fusion of his Jewish faith with his Rastafarian faith, you had another thing coming.
Matisyahu gave an overview of his philosophy, background, and "evolution" to become the first Hasidic reggae artist. His openness about his life and "struggles" was welcomed by the audience (some in tie-dye shirts). The singer spoke about the influence Bob Marley had on his music, the Old Testament has had on his life, and visits to Israel have had in connecting the two pursuits. Whenever interviewer Thane Rosenbaum asked Matisyahu to expand on his thoughts with more intellect and thoughtfulness, Matisyahu repeatedly reminded him that the music is motivated by a sense of spirituality that's not easily defined or explained.
But the highlight of the night was a group of a couple dozen 5th graders from Staten Island. The PS 22 Children's Chorus joined the singer on stage for "One Day" and "On Nature". Quickly, the feel of the evening shifted to that of a 5th grade choir performance, with Matisyahu in a guest role; the kids instantly upstaged their influence and ambassador.
The message of the evening was best summed up by the final question and answer of the night, posed by a minister who revealed that he's a huge fan of Matisyahu's music. The singer responded that Judaism is a "global religion" capable of reaching all audiences. Along those lines, a group of 10-year-olds singing words of a Jewish hip-hop star at the 92nd St. Y was sweet music to our ears.
What They Said
"My music is not really about one ideology. It's not about one truth."
– Matisyahu is thrilled that people of all religions and denominations have taken to his music
"The New School is the kind of school where you can take bonsai cutting and Hasidic stories. It was good for me."
– We really hope Matisyahu planning an album of Hasidic stories about bonsai cutting

"Most of my life wasn't about knowledge from books, but experiential knowledge."
– Matisyahu went to the Ferris Bueller School of Life

"If you ask them what they want to be, they want to be ninjas. I tell them they can do it: You can be the first Hasidic ninja."
– Matisyahu makes us wonder what first Hasidic ceiling his grandchildren will shatter

What We Thought
Thane Rosenbaum did a fine job with his interview questions. It was clear to us that he'd prepared notes and listened to some of Matisyahu's new album. But Rosenbaum would have benefited from going off-script a bit more, with Matisyahu answering questions much more speedily and efficiently than could have been anticipated. Has Rosenbaum known he'd have time to get through all of his material, we're sure he'd have asked more follow up questions initially. As a result, the pacing of the conversation was off throughout the night.
We liked Matisyahu's story about hallucinating about Phish guitarist Trey Anastasio passing the key onto him and how that image influenced him to go after his dreams. It showed us that even before Matthew Miller found his religious awakening, he was already headed in a spiritually uplifted direction.
PANEL RULES!
Some audience behavior seems to repeat itself panel after panel. We'll be updating a running list of "PANEL RULES!" that will help ensure that you are not the dweeb of the Panel Nerds.
Panel Nerds don't like…Hypotheticals
Matisyahu has succeeded at his chosen trade, whether you like his music or not. He's a singer. Sure, if he hasn't made it as a vocalist/beatboxer Matthew Miller would have had to find a different profession. What that profession would have been is not really relevant or all that interesting. You're generally better off asking about what people do, believe, or think ahead of asking what people would have done if life had gone differently. It's rare that you get the chance to pick a famous person's brain; we'd encourage you to deal with the person that sits there in front of you.
Have a tip we should know? tips@mediaite.com